Cyprus culture introduced to new students of EUL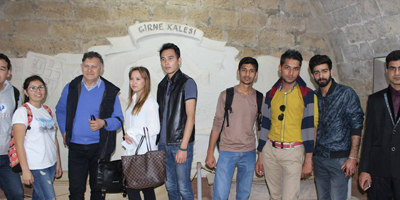 The International Office of European University of Lefke (EUL) has organized various activities under an orientation theme program for the newly registered foreign students during the 2016-2017 Academic years- Spring Semester.
During the conference which was held in EUL Faculty of Law Great Amphitheater Conference Hall, information was delivered to the students about the university by the International Office Directorate and Students' Dean Office.
New students coming from various countries to EUL have had the opportunity to visit and recognize the capital city Nicosia and Girne region and visited the historical texture of Nicosia Selimiye Mosque and Girne Castle.
In the second part of the program, the "Welcome Party" was organized. Vice Rector Vice-Prof. Dr. Carolina Smochina attended the meeting and delivered a speech to the students. Local cuisine was presented to the students while folklore shows were demonstrated in the night where the Cyprus culture was reflected.
The students who expressed their thoughts after the program expressed their appreciation for the opportunity to get to know the historical and cultural places of the TRNC with the events organized within the Orientation Days and they were fascinated by the safe, calm and green nature of Cyprus.