"Documentary Cinema" was discussed by master directors in EUL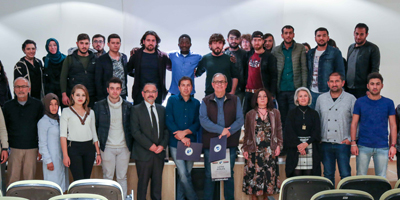 European University of Lefke (EUL) Faculty of Communication Sciences and EUL TV collaborated to realize the Documentary Cinema Days event. Within the scope of the event organized 3rd time this year; Film screenings, seminars and workshops took place.
For the seminar and workshop, awarded documentary film director Savaş Güvezne and Kadir Has University lecturer and director Murat Erün participated as speakers. At the first session, the history of "Turkish Documentary Cinema" was discussed with the presentation of director Savaş Güvezne. Murat Erün made a workshop on "Use of Shooting Techniques in the Context of Making Meaning in Documentary Cinema". The two-day event featured screenings of documentary films, including presentations and interviews, as well as works by participants, featuring unusual documentary films from around the world.
Güvezne: People who are going to make a documentary film must be determined and patient
Güvezne shared his experiences with audience on clues about the stages of documentary filmmaking in Turkey and documentary filmmaking and noted that the role of the documentary filmmaker in creating social memory is also very important. At the seminar, Güvezne pointed out that the people who are going to be making documentary films should be determined and patient and explained the difficulties that can be encountered during the documentary making by giving examples.
Erün: The stage of filming in documentary cinema is very important
In the workshop held during the event, the instructor and director Murat Erün pointed out that the stage of shooting is very important, as in the case of other cinema types in documentary cinema and emphasized that the emulation or thinking which is wanted to be explained by the good use of the shooting techniques can be made better. Giving examples about different shooting techniques that can be used in documentary making, Erün gave detailed information about the role of the camera in conveying emotions and thoughts to the audience.
In the film screenings, guest directors met with the award-winning films at various festivals and competitions. Savaş Güvezne's "A Plane Factory in Beşiktaş" and Murat Erün's "800 km Hurdles" were presented to the audience. At the end of the performances with intense participation, an interview with guest directors took place.
At the end of the two-day event, Faculty of Communication Sciences Professor. Dr. Belkıs Ayhan Tarhan presented certificate of appreciation to Güvezne ve Erün.