"The Effect of the Theater Language on the Viewers" in LAU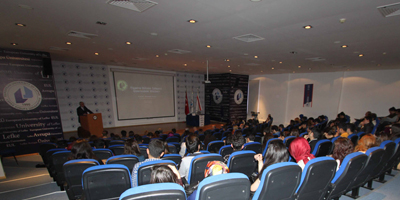 A conference on "The Effect of Theater Language on the Viewers" was organized by European University of Leke (EUL) Faculty of Arts and Sciences- Department of Turkish Language and Literature. Prof. Dr. Alemdar Yalçın- the Member of Gazi Education Faculty Turkish Language and Literature Department, participated as a speaker in the seminar held at EUL Rauf Raif Denktaş Education Complex Conference Hall
Yıldız: There is no thought without language in literary work
During the opening speech of the conference, the Faculty of Arts and Sciences Dean, Professor. Dr. Saadettin Yıldız, emphasized that language has an important role in culture and literary works. Yıldız noted that the language element is the essence of literary work. Yıldız expressed that the writers were producing works of their own by the concept worlds, and that the readers were also trying to understand their works within the boundaries of their own conceptual worlds, so the readers had to expand this world constantly.
Yıldız explained that individuals can understand each other by means of language, stating that individuals can think through language, the language has a chance to expand if the borders are wide, and each individual is his own world.
Yalçın: Drama is an indispensable element of your life
In his presentation titled "Effects of the Theater Language on the Viewers", Yalçın said that the content of the theater was event-driven, and "Theater was a drama art until the Renaissance time." Stating that the storytelling and novels emerged with the invention of the printing press, Yalçın stated that developing technology and television series and cinema have entered into our lives and expressed that this type of life is an indispensable element in all of these genres.
Yalçın conveyed information about antiquity theater, Rome, church and folk theaters, theater buildings in Renaissance, speeches and performances in the context of visual presentations. He also mentioned some events in the history to the theater and talked about the theater examples. Yalçın stated that these examples influenced politics, psychology and sociology and provided new concepts to emerge. Yalcin expressed that he could play in every square because he did not care about stage and decor in the "Orta Oyunu" (Low Comedy) which appeared in the Ottoman period.