Early intervention in children with cerebral palsy is very important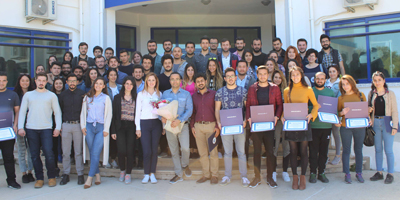 European University of Lefke (EUL) Department of Physiotherapy and Rehabilitation of the Faculty of Health Sciences organized a "Workshop on Current Assessment and Treatment Principles in Children with Cerebral Palsy".
Gazi University Faculty of Health Sciences Physiotherapy Rehabilitation Department Instructor Assoc. Prof. Dr. Bulent Elbasan stressed on various issues such: The kinesiology of normal motor development, Cerebral Palsy, Types of Cerebral Palsy, Evaluation of Children and Individuals with Cerebral Palsy, and Creating a Physiotherapy Rehabilitation Program According to Cerebral Palsy Types. In addition, many students participated in the meeting and detailed information about the clinical decision-making process was given to the patient, including practical applications.
Elbasan stated that the aim of the workshop is to gain theoretical and practical knowledge about current methods used in the evaluation of children with cerebral palsy and rehabilitation of physiotherapy and emphasizing the importance of early intervention and stated that physiotherapy comes first in the approaches that come to mind first. Emphasizing that physiotherapy is one of the most important criteria in stabilizing life functions in the new born with any risk factor, Elbasan made detailed explanations on the topics, responding to the participants' questions.
Finally, Elbasan said, "Increasing risk factors with the changing world cause some problems, but developing pediatric intensive care units are increasing their chances of survival."