"Emergency Response Reenactments" were held at EUL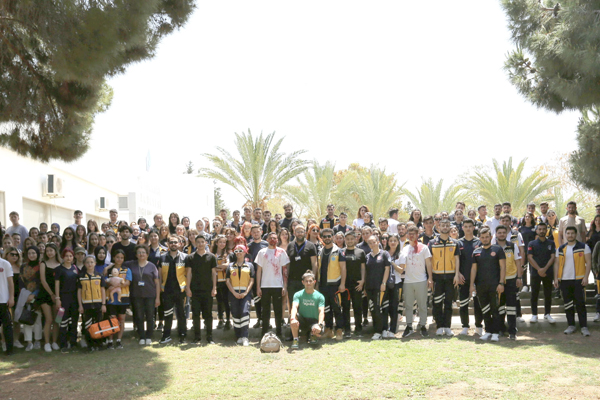 European University of Lefke (EUL) Vocational School of Health Services, Department of First and Emergency Aid organised an "Emergency Intervention Re-enactments" event.
The students of the Department of First and Emergency Aid had the opportunity to share their knowledge and experience gained during their university education life with other university students at predetermined locations within the campus area and within the scope of appropriate scenarios.
Students' re-enactments were watched with interest
The first resuscitation intervention was related to an in-vehicle traffic accident, calling the 112 emergency help line, removing the injured from the vehicle, intervention, and ambulance transport. The 112 teams immediately intervened and transported the driver and passenger in the front seat of the vehicle, which slipped and crashed into the scenario in the campus area. In the second scenario, emergency labour, arrhythmia, and vertigo were discussed. According to the scenario, 112 was called when the patient started labour. With the immediate and rapid intervention of emergency teams, labour took place. Emergency resuscitation intervention was given to the mother, whose condition deteriorated after birth. In the third scenario, an adult male patient had an epilepsy seizure in an open area. The team arrived at the scene in a short time after the relative called 112. The team evaluated the patient and, after the first intervention, took the situation under control and provided rapid transport. In the last practise, attention was drawn to occupational accidents and occupational safety. The victim, who was working at a high place with only a rope attached, fell to the ground, and the possibility of an open fracture and multiple organ injuries was stabilised by the 112 team that quickly arrived at the scene. An emergency trauma approach was applied to the patient. Continuous consciousness control was performed, and appropriate transport was provided.
All these practises were followed and evaluated by Asst. Prof. Dr. Semra Aslay and Lecturer Aziz Aşık. The students in the campus area had the opportunity to witness the relationship between first aid and emergency aid and how effective their sequential application is in saving lives.