Ethical Violations in Psychology Practices discussed at EUL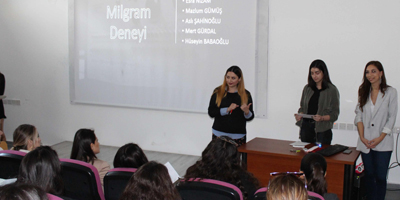 European University Lefke (EUL) Faculty of Arts & Sciences Department of Psychology organized a workshop themed "Ethical Violations in Psychology Practices". The workshop was moderated by Academician of EUL Department of Psychology Assist. Prof. Dr. Cemaliye Direktör and Lecturer Dilem Öke.
Psychology students examine the experimental studies in the field within the framework of ethical principles
Öke said that there are many valuable experimental studies in the field of social psychology from past to present, and underlined the importance of understanding the science of psychology by searching and reading the experiments. On the other hand, Direktör underlined ethical principles and said that ethical principles determine the common values of colleagues and they are vital to protect both colleagues and clients. Direktör also said that psychologists should know the ethical principles and act in accordance with these principles and warned the students about the irreversibility of the damages of non-compliance with research ethics.
Students presented and criticized the studies
In the workshop, while the second year students of the Department of Psychology of EUL transferred the experimental researches in the field of Psychology, the 4th grade students examined the experimental studies which were transferred within the framework of ethical principles. While discussing the ethical violations in the experimental studies, how these studies can be conducted by following the ethical principles was also discussed.
Within the scope of the workshop 16 different social psychology experiments were discussed and these experiments were as follows; Milgram Experiment, Monster Study, Carslberg Experiment, Robbers Cave Experiment, Marsmellow Experiment, Asch Conformity Experiment, Stanford Jail Experiment, Little Albert Experiment, The Ape and The Child Experiment, Five Monkeys Experiment, Brain wash and Control Experiment, 3rd Wave Experiment, Bandura's Bobo Doll Experiment, Festinger's Cognitive Dissonance Experiment and Harry Harlow's Fake Mother Experiment.
Under the framework of the discussions, considering the benefit-loss balance of the stages in the experiments, the importance of the damage to humans and animals and the importance of scientific ethics were put forward. It was also underlined that in addition to the Code of Ethics of the Turkish Psychological Association, the Declaration of Helsinki and the Universal Declaration of Animal Rights will also guide the candidates for psychologists who will conduct research.