EUL Academician Alptuğ discussed the issue of "Inactivity and Use of Technological Devices"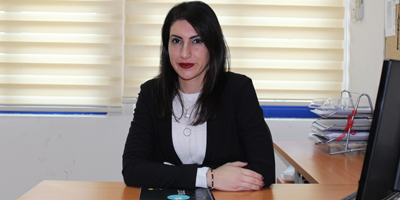 Inactivity and long-term use of technological devices increase orthopedic problems 
European University of Lefke (EUL) Faculty of Health Sciences Physiotherapy and Rehabilitation Department Instructor MA Pt. Beraat Alptuğ touched on the subject of "Immobility and Use of Technological Devices".
Stating that in the age of technology, an average working day for many people includes being inactive for a long time, Alptuğ stated that 8-9 hours a day are spent sitting in front of the computer or in a business environment. Stating that this period is increasing, especially in this period when online training and computer work are increasing, Alptuğ said, "Your posture during sitting is very important for our health and we are not aware of how bad posture affects our health". 
Neck hernia, headache, tendon inflammation in the shoulder and elbow are among the negative effects of bad sitting posture.
Talking about the negative effects of bad sitting posture, Alptuğ said; headache, muscle pain and spasms in the neck (tight neck syndrome), neck hernia, nerve compression in the wrist (carpal tunnel syndrome), pain around the hand and wrist (tendinitis), tendon inflammation in the thumb and wrist, tendon inflammation in the shoulder and elbow, back and pain in the muscle groups around the scapula (myofascial pain syndrome), posture problems (curvature and hunchback of the spine), negatively affected bone development due to lack of movement, back, neck and body pain.
Stating that inactivity and long-term use of technological devices increase orthopedic problems, Alptuğ said that many diseases, especially neck and waist disorders, have increased seriously in children due to tablet computers and smart phones, and due to the intense use of these devices, they cause serious damage to the spine of developing children.
Alptuğ continued her explanation, "Over time, these ailments can cause permanent changes in your spinal cord and body and increase the risk of cardiovascular problems. Yes, poor sitting position not only leads to temporary tension or discomfort, but also to long-term negative effects. It can also increase the risk of developing a sedentary lifestyle, heart disease, high blood pressure, type 2 diabetes. Along with these, the risk of depression and anxiety increases, as does the risk of colon, breast and uterine cancer, " she said.
"The sitting posture is not complicated, but the correct sitting posture requires first the correct orientation and then a conscious effort to maintain it," said Alptuğ, and listed the things to be considered about sitting posture while using the computer;
Sit with your back straight (without hunching), pull your shoulders back and place them with your hips touching the back of the seat.
Keep your neck and head at a right angle, with your ears in line with your shoulders. According to research, tilting your head forward only 15 degrees doubles the pressure on your neck as the weight of your head doubles.
• Avoid leaning on any side. Keep your hips straight to distribute your body weight.
• Bend your knees at a 90-degree angle and keep them in line with your hips or slightly lower.
• Leave a small space of 5-7 cm between the lower part of your thighs and the edge of the seat. This helps reduce the pressure that builds up on your lower thighs.
• Keep both feet flat on the ground or, if you can't reach, place supports under your feet.
• Do not sit with your legs crossed, which restricts blood flow.
• Avoid sitting for more than 30 minutes at a time.
• Do stretching and posture exercises between you.
As a result, Alptuğ concluded her words by saying, "The changing world, the advancement of technology, the decrease in socialization as a result of the pandemic, the increase in the time spent at home, the increase in the use of technological devices at an early age, decreasing physical activity leads to many orthopedic problems and decreases the quality of life."