EUL Academician Alptuğ gave information on "Exercise, Memory and Brain"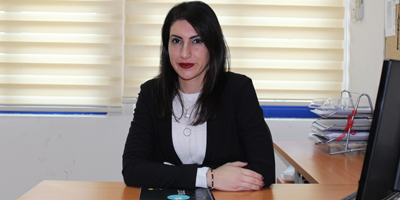 European University of Lefke (EUL) Faculty of Health Sciences Physiotherapy and Rehabilitation Department Lecturer Specialist. Pt. Beraat Alptuğ made statements on "Exercise, Memory and Brain".
Alptuğ said, "The fact that very few of its abilities and capacities have been explained by the scientific world leads to more and more questions being asked about the human brain and to more research." She stated that as well as the effect of negative factors, minimizing the effect of existing memory problems, keeping the normal functioning memory at its current level or improving it further are among the issues that attract attention.
Alptuğ said, "Besides the situations that negatively affect the memory; Mental activities (reading, puzzle solving, education), regular sleep, balanced and adequate nutrition and reducing stress reveal positive results in the functioning of memory. Especially after exercise, the increased cerebral circulation and oxygen-enriched blood play an important role in improving mood and cognitive development by facilitating recovery. 
"Exercise aids memory and thinking in both direct and indirect ways"
Alptuğ continued, "Exercise helps memory and thinking both directly and indirectly. The benefits of exercise directly reduce insulin resistance, reduce inflammation and increase the release of growth factor (chemicals in the brain that affect the health of brain cells), affect the formation of new blood vessels in the brain, and affect the formation of new brain cells. Exercise, on the other hand, is a versatile tool that has an impact on memory in both positive and negative situations. Today, its positive effects have been shown in many conditions from Alzheimer's disease to obesity, from depression to attention deficit and hyperactivity disorder. Also indirectly, exercise improves mood and sleep, reduces stress and anxiety. Problems in these areas often cause or contribute to cognitive impairment. Many studies have concluded that the parts of the brain that control thinking and memory are more developed in people who exercise than in those who don't. According to studies, for the formation of an increase in the volume of selected brain regions, participation in a moderate-intensity regular exercise program for six months or a year is required.
Alptuğ answered the question of what should be done;
"Start exercising! The injuries of exercises that increase the heart rate are significantly greater. For this reason, aerobic exercises both improve physical health and contribute to memory and brain development. According to research, one of the easiest exercises to do for these effects is walking. You can apply to a physiotherapist for a correct and effective exercise program."
Alptuğ answered the question of how much exercise is necessary to improve memory;
"It is recommended to do half an hour of moderate physical activity most days of the week, or 150 minutes per week. If that seems daunting, start with a few minutes a day and increase the amount of exercise by five or 10 minutes each week until you reach your goal.
If you don't want to walk, consider other moderate-intensity exercises like swimming, stair climbing, tennis, squash, or dancing. Intensive gardening and housework that you can do is also among the activities that can be done, as it affects the heart rate and causes a slight sweating.
Alptuğ finally said, "Don't you have the discipline to do this on your own? You can motivate yourself by participating in group exercises or exercising with a friend. Regular aerobic exercise is effective on academic performance in children as well as minimizing memory problems brought on by advancing age. For better brain functions such as a better memory, exercise must be active. If you think and apply the type of exercise to be applied or exercise choices that will increase your motivation when prescribed with the recommendation of a physiotherapist, and if you make it a habit in line with the recommendations of your physiotherapist, you will protect your brain and memory health in the future.