EUL Academician Bardak handled "Functional Foods"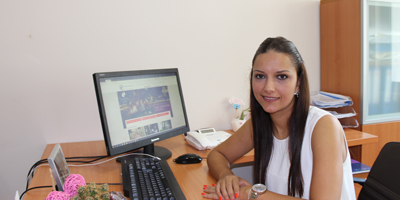 Functional Foods are good for Health
Academician of European University of Lefke (EUL) Faculty of Health Sciences Department of Nutrition and Dietetics Assist. Prof. Dr. Nazal Bardak gave information about "Functional Foods".
Bardak said that, functional foods are often found in everyday diets, either as a nutrient enriched with a functional nutrient or a nutrient that has been altered by genetic engineering aid or as a natural nutrient that has never been processed.
Pointing out that "Functional Food" describes foods that benefit health as well as nutriments, Bardak said that, "In other words; functional foods are food or food ingredients that provide additional benefits over human physiology and metabolic functions beyond reaching the body's essential nutritional needs and thus are effective in protecting from disease and achieving a healthier life.
Bardak categorized functional foods that can be found in market and listed them as; low-calorie foods, low sodium foods including low-sodium or sodium-free salts, dietary fiber containing foods, gluten-free foods, athletic foods, diabetic foods (sugar-free), enriched foods, special foods for patients with phenylketonuria, probiotic and prebiotic foods, foods with increased content of omega-3, omega-6 and omega-9 fatty acids as food and polyunsaturated essential fatty acids.
In recent years, the importance given to healthy nourishment is increasing
Touching upon the main differences between "Supplement Foods" and "Functional Foods" Bardak described functional foods as classical known foods which are consumed as part of the normal diet and supplement foods as foods offered in the forms of capsule, powder, beverage, etc. to the consumers.
Bardak said that, "Functional foods are not in forms such as drugs, pills, capsules, food supplements, but they contain foods such as normal fruits and vegetables, cereals, drinks, fortifying foods, enriched and improved foods. They are part of normal daily nutrition", and added that with the importance attached to the quality of consumed food and healthy nourishment, the idea of reducing the risk of illnesses in further ages is beginning to form.
Bardak finally said that, "Functional foods can be thought as a nutrient which provide alternative and diversity in some cases. However, it should be noted that no food is miraculous and that it does not serve as a drug or treatment".