EUL Academician Caganağa made a statement due to the World "Children's Books Week"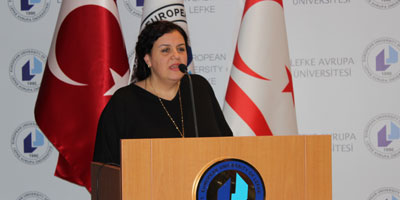 Children should gain the habit of reading books at a young age
European University of Lefke (EUL) Dr. Fazıl Küçük Faculty of Education, Head of Primary Education Department, Asst. Prof. Dr. Çağda Çağanağa gave explanations and detailed information on the occasion of the "World Children's Books Week".
Saying that "We open the doors of different worlds with a book, we go to unknown geographies and touch unknown lives" Çağanağa stated that the second week of November is celebrated as "Children's Books Week" every year in order to gain a reading habit and to increase the love of books. Stating that one of the organizing goals of this week is to provide children with the love of reading books as well as to write more and more quality children's books, Çağanağa said, "In the week that is not limited to these purposes, parents can direct their children to buy books and encourage children to set up their own libraries at home "School and classroom libraries can be enriched, the number of children's libraries can be increased, books other than textbooks can be read, children can be made aware of reading, note and summarizing techniques, new children's publications can be followed, and authors and children can be brought together on autograph days."
Children's books improve children's world of emotions and thoughts
"Books are friends who make use of our time. If friendship with books starts at a young age, this good habit will continue as it grows. Books help us find the truth, the good, the good, the useful. Books endear life. It makes the world beautiful. It enlightens us. Authors address hundreds of thousands of people through books. The author's thoughts are spread from country to country through books. Information reaches the most distant places. A link is established between the author and the reader. A closeness is provided, "said Çağanağa, adding that children's books not only provide information to children, but also develop children's world of emotions and thoughts.
Continuing her words by saying "One of the most important conditions of success in life as well as in school", Çağanağa said, "To benefit from trial and research products of centuries; In order to be a cultured individual with a high level of civilization, we must read a lot, a lot, not content with the books given in schools, but read the books that will guide our lives. If we say what civilization is, it is a collection of knowledge, accumulation and memories created and accumulated by generations before us. We can enter civilization by reading the books of those generations. Nothing in our lives can replace reading experience. If we want to be a cultured person, the first way to do this is to read a lot. The book helps us to have knowledge as well as having knowledge. It is important to know. However, applying what you know is only possible with permanent knowledge. A person who reads a book starts to act much smarter than before. "He sees life with deeper emotions as a success point," she said.
Çağanağa, stated that "The habit of reading books starting from an early age contributes to both individual development and is effective in the formation of the personality of the child" and that the habit of reading books can be gained by children at an early age.