EUL Academician Çehreli drew attention to how the oral and dental health of children should be protected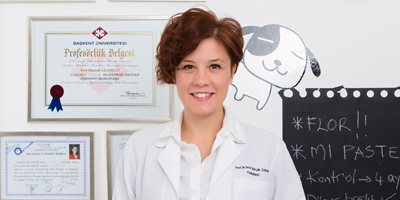 Faculty Member of the European University of Lefke Faculty of Dentistry Prof. Dr. Sevi Burçak Çehreli made statements about how the oral and dental health of children should be protected during the Covid -19 period.
"The pandemic period we are in; causes us to change our habits, stay at home more, and accordingly, include more snack foods in our daily routine. However, as we all know; Tooth decay is caused by the acid produced by bacteria using sugar. Our children may consume more sugar than usual during this period," said Çehreli, and summarized what should be done for children during the pandemic period, when access to health services is also difficult for various reasons:
As long as we are at home, let's increase the number of brushing to 3 a day.
Make sure to use the amount of fluoride toothpaste recommended by your dentist. Nowadays, let's learn our risk situation from our dentist knowing that we should start using fluoride paste at the age of 2 in children with high risk of caries.
 Let's not forget that many dentists provide remote, video or photo sharing consultancy through various mobile applications during the Covid-19 period.
Even if we cook it at home; Let's not forget that foods containing starch and sugar together cause caries. Let's know that foods that are beneficial for our health such as fruit, dried fruit, honey and molasses also play a major role in the formation of caries and we should definitely seek advice from our dentist for the amount and frequency of their consumption.
Let's care about mouth sores. Do not forget that in a few reported cases mouth sores may be associated with Covid-19.
Let's consume Vitamin D-containing foods more than usual. There are many cases reporting that dental caries in children increases in case of vitamin D deficiency. At the same time, medical doctors consider vitamin C and D supplements very important in the current period.
Let's make ourselves and our children drink more water. While increasing the amount of water we drink, on the contrary, let's avoid acidic foods, including fresh fruit juices.
Finally, Çehreli concluded by saying, "Let's not forget that dental caries in children is not "destiny" but an infectious disease due to faulty care and nutrition.