EUL Academician Ekenoğlu pointed out the importance of consciously usage of antibiotics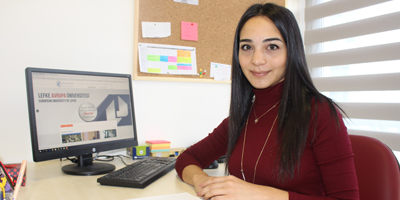 Academician of European University of Lefke Vocational School of Health Care Services, Dr. Yağmur Ekenoğlu made some statements on World Antibiotic Awareness Week.
Stating that antibiotic resistance is a serious global problem that threatens the health of the community, Ekenoglu expressed that at least 700,000 people worldwide die every year from "super bacterium" infections resistant to antibiotics and added that  it is estimated that this number will rise to 10 million by 2050.  Ekenoğlu said that it is hard and sometime impossible for antibiotics to treat infections such as pneumonia, tuberculosis, blood poisoning and gonorrhea due to deaden of the effects of antibiotics. Ekenoğlu said that, "We are on the way to an era where ordinary infections and minor injuries are likely to result in death, as in the period before the discovery of antibiotics".
Ekenoğlu described antibiotics as drugs used to prevent and treat bacterial infections. Ekenoğlu stated that the antibiotic resistance occurs when the bacteria change in response to the use of antibiotics, and that this change causes the bacteria not to be affected by the used antibiotics. Ekenoğlu expressed that these bacteria can infect humans and animals and added that the treatment of infections caused by resistant bacteria is difficult.
Ekenoğlu listed the measures to prevent and control the spread of antibiotic resistance as follows:
Always consult your doctor before using antibiotics
Use antibiotics in the amount and period that your doctor tells you.
When your doctor tells you, you do not need antibiotics, never ask for antibiotics.
Never use antibiotics prescribed for someone else.
Antibiotics do not cure nor prevent colds, flu and influenza.
Even if you feel better, do not stop using antibiotics until your treatment is complete.
Do not use the rest of the antibiotics when treatment is complete.
Take precautions to protect against infections.
Wash your hands and your child's hands frequently during illness.
Ekenoğlu said that, "Although there are some new antibiotics being developed, none is expected to be effective against the most dangerous resistant bacterias, namely 'Super Bacteria'". Ekenoğlu added that all layers of society have a role in reducing antibiotic resistance and preventing spread, and that it is important for everyone to fight against unnecessary usage of antibiotic.