EUL Academician examined Rural Development and Preservation of Architectural Heritage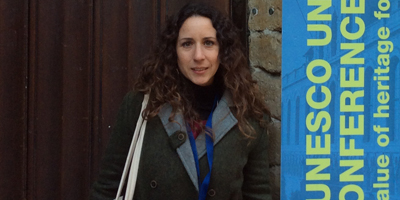 Sustainable Tourism contributes to the Protection of Cultural Heritage
Academician of European University of Lefke (EUL) Faculty of Architecture Assist. Prof. Dr. Aliye Menteş participated in the 6th Unesco (United Nations Educational, Scientific And Cultural Organization) Unitwin (University Twinning And Networking Programme) Conference" held in Belgium, Leuven at the KU Leuven University in collaboration with KU Leuven University and Sorbonne University and represented EUL. In the conference she had participated, Menteş presented her presentation titled "Contribution of Sustainable Tourism to the Conservation of Architectural Heritage: Nymfeo and Kalopanayiotis Village Examples".
Giving information about her presentation, Menteş said that "Since the 1940s, most Mediterranean countries have experienced a rapid decline in rural population coverage and the contribution of agriculture to the local economy". Stating the reason for this as industrialization and government policies, Mentaş said that in the context of Mediterranean sustainable tourism contributes to the protection of the cultural heritage since 90's. Menteş stated that her study focuses on two traditional mountain villages, one in Greece (Nymfeo village) and the other in Cyprus (Kalopanayiotis village) and added that "These two villages have been examined for sustainable tourism through rural development and protection of architectural heritage. Sustainable tourism (nature tourism and agrotourism) was brought to these villages with the encouragement of governments and local investors". Menteş also said that conversation of the cultural heritage was planned and conducted successfully and added that "Furthermore, the EU's serious support for capacity building in the protection of cultural heritage has influenced the extent to which tourism is formed and the use of land".
Pointing out that the study examines a number of important initiatives and studies within the scope of sustainable development of the two villages, Menteş said that "The existence of EU support funds affected the sustainable development process and created incentives between local investors and young investors". Underlining that the study also examines traditional rural living values and the processes of change in traditional architecture, Menteş stated that research findings show that sustainable tourism can be an important catalyst in preserving the architectural heritage of mountain villages.
Menteş said that the methodology undertaken in the study is based primarily on observing and analyzing activities and meetings with government agencies and stakeholders, interviews and surveys with local communities, as well as qualitative research through participatory observation. She further stated that "Investigation of physical traditions: in the context of morphology and architectural conservation, it examines how two villages have undergone a change after development by morphological analysis by mapping" and added that all the architectural heritages that have been restored and reused within the scope of tourism have been analyzed.