EUL Academician Kaygısız, drew attention to telerehabilitation practices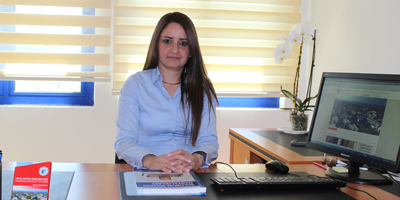 European University of Lefke Faculty of Health Sciences Physiotherapy and Rehabilitation Department Lecturer Assist. Prof. Dr. Beliz Belgen Kaygisiz  gave detailed information about "the increase in telerehabilitation applications during the Covid-19 Pandemic process."
Kaygısız: Increase in "Telerehabilitation" applications during Covid-19 Pandemic
"The Covid-19 pandemic has led to a sudden change that forces societies to buy all services from the digital space. Saying that the epidemic continues to have its effect with both education services, health services and "new normal" regulations in social life, Careless, the importance of using the health service provided by remote communication (telehealth) for providing care is increasing, especially as a way to reduce the risk of transmission from close contact.
"Although the field of physiotherapy and rehabilitation offers distant treatment opportunities with patients, groups with chronic diseases and / or risky due to age refrain from accessing necessary physiotherapy services. In the pre-epidemic period, the use of technology in healthcare services was increasing and this set the ground for the development of remote communication rehabilitation – telerehabilitation. Kaygısız "Since the eighties, the services offered under the term" Telerehabilitation "cover many areas such as measurement, evaluation, monitoring, prevention, intervention, inspection, training and consultancy. "Developments in this area contribute to the reduction of health expenses as well as supporting the quality of life."
Kaygısısz: Telerehabilitation strengthens the patient-provider link
Kaygısız, Rehabilitation models offered by remote communication do not have a defined structure. Data exchange; He stated that telephone, messaging, e-mail, video conferencing, virtual therapists and web-based platforms can take place in numerous ways, and these models, which include a patient-centered team approach, allow solutions to be determined to overcome geographical, social and financial barriers.
Kaygısız: In order for telehealth / telerehabilitation to be effective, it is important that it becomes a routinely used part of our health system.
"Recent studies have shown that telerehabilitation strengthens the patient-provider link by increasing the knowledge of patients and their surroundings, providing information exchange and facilitating education, and creating joint goal setting and action planning. While telerehabilitation practices are used by physiotherapists in many fields, especially in neurological, orthopedic and cardiac rehabilitation, the epidemic period we are in has increased the number of patients applying to this service in our country. "Kaygısız, in order to shorten the duration of hospital stay in the inpatient environment and to support the treatment, She stated that this method is being used frequently in our country to support the treatment process both in the clinic and at home in outpatients. "It is therefore important for physiotherapists to consider basic recommendations for safe and effective digital practice," said Kaygısız.
Kaygısız lastly, "In order for telehealth / telerehabilitation to be effective, it is important that it becomes a routinely used part of our health system. For this to happen, basic requirements, strategies to ensure the regular use of this service, flexible financing arrangements as well as traditional service delivery methods and the authorization of health personnel to provide this service are important. "If the epidemic continues, it is necessary to take steps, considering that the number of patients applying to this method will increase."