EUL Academician Kaygısız made a statement for the "International Day of Persons with Disabilities"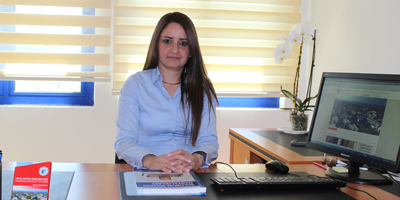 A versatile rehabilitation program in 'disability' ensures that the person has the best quality of life
European University of Lefke (EUL) Physiotherapy and Rehabilitation Department Faculty Member Asst. Prof. Dr. Beliz Belgen Kaygısız made a statement on the occasion of December 3, International Day of Persons with Disabilities and gave information on "The Importance of Physiotherapy and Rehabilitation in Increasing the Quality of Life of Persons with Disabilities".
While the concept of quality of life is defined as a whole of subjective perception, emotion and cognition processes based on the individual's evaluation of his own life, it is an expression of individual well-being and includes subjective satisfaction expressions related to various aspects of life. A carefree situation that can bring along physical, psychological and social problems. He stated that in "disability", a versatile rehabilitation program is aimed at ensuring that the person has the best possible quality of life.  Stating that the concept of quality of life for the "disabled individual" can be defined as being able to live independently and easily in the society and not be prevented socially and culturally, Careless, drew attention to the fact that multi-dimensional rehabilitation programs should be considered as a multi-dimensional concept that includes the person's self, family and environment.
The most important step in increasing the quality of life of disabled people is to provide a multidimensional rehabilitation process.
"The most important step in the inclusion of disabled people in society and increasing the quality of life is to provide a multidimensional rehabilitation process. "Rehabilitation" is defined as treating the permanent or temporary inadequacies of the person congenitally or later, due to any reason, by determining their lost and sometimes limited functional capacity, and ensuring that they become independent in daily life by supporting them in psychological, social, occupational and environmental aspects. She said that it is very important that these programs are specific to the disease and patient and that there is no standardization of the physiotherapy and rehabilitation program.
"The main principles of rehabilitation are the patient's ability to continue his daily life activities independently, to return to his old social life and work, to achieve success as soon as possible with the program to be established by the rehabilitation team." stated.
Kaygısız stated that "The recycling expected to be gained depends on the age of the person, the time of initiation of treatment, the location and severity of the trauma or lesion, the motivation of the patient and many other factors. For example, in 2 different people who were exposed to spinal cord injury after a traffic accident; It can give an idea to healthcare professionals about what level of the spine is the nerve injury and what the individual's level of independence can be. Rehabilitation programs for these people are developed in line with the existing and individual competencies or disabilities ".
Rehabilitation studies continue to develop rapidly today.
"In the physiotherapy and rehabilitation programs applied by physiotherapists for physically disabled people, it is aimed to reach the maximum level of independence of people who have started living with disabilities, to ensure their integration into society and to return to their old lives with the least physical disability." She stated that necessary modifications for barriers that cause environmental functional limitations are also recommended by physiotherapists.
Kaygısız said, "Rehabilitation works implemented for the disabled people to be self-sufficient in their home, work and social life continue to develop rapidly today, and especially in parallel with technological developments," being dependent "is almost reduced to zero and the quality of life is tried to be increased. He stated that many medical devices and tools that facilitate communication in speech-impaired people and enable hearing in hearing-impaired people are frequently used by all rehabilitation staff.