EUL academician Kaygısız made remarks about "The effect of regular exercise on the immune system"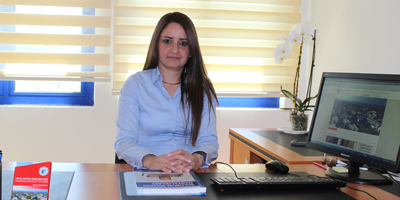 European University of Lefke, Faculty of Health Sciences, Physiotherapy and Rehabilitation Department academician Assist. Prof. Dr. Beliz Belgen Kaygısız provided detailed information on "The effect of regular exercise on the immune system".
Kaygısız: Regular exercise is an important factor in strengthening the immune system
"The immune system is a mechanism that consists of organs, tissues, cells and proteins and protects our body against external diseases. Healthy nutrition, regular exercise or physical activity, adequate sleep and avoiding stress are important factors for a strong immune system. " He underlined that it should be known that it has effects. He also underlined that non-smoking, maintaining a healthy weight, avoiding alcohol or not overdoing and ensuring hygiene have positive effects on this protection mechanism. He also noted that with such lifestyle strategies, a person can strengthen a person's immune system and protect his body against diseases.
Kaygısız, "Physical activity, which is one of the important factors that keep the immune system strong, is an international term used to describe the body movements using energy with its simplest definition".. She stated that physical activity can be defined as activities that occur with energy consumption, increase heart and respiratory rate and result in fatigue of different intensities by using our muscles and joints in daily life. Kaygısız claimed that, physical activities can be listed as, climbing stairs, gardening, hiking etc. "
"Physical activities that are performed repeatedly at regular intervals are defined as"exercise ". As one of the indispensable components of healthy life, exercise increases muscle strength, endurance and flexibility, as well as reduce the risk of cardiovascular diseases, accelerate metabolism, control weight, reduce depression, reduce chronic pain, lower blood pressure, protect from type 2 diabetes and some types of cancer. Many benefits have been determined. "He said that we can define the examples such as walking 3 days a week, walking for 1 hour, swimming 45 minutes 3 days a week, playing basketball 45 days 2 days a week.
Kaygısız: Exercise supports the more free movement of cells that make up the immune system by regulating blood circulation.
"There is strong evidence on the health benefits of exercise and physical activity, the impact of exercise on immune system functions in recent years has also been demonstrated by many studies.
She also noted that it provides nutrients and oxygen to all of the body's cells and ensures that the components involved in the immune system can fully perform their tasks. She said that exercising without any care, regularly helps the absorption of nutrients in the body correctly and facilitates the use of the vitamins and minerals needed, and also reduces the feeling of fatigue by improving the body's ability to carry and use oxygen.
Kaygısız also mentioned that recent studies have shown that exercise reduces the risk of systemic inflammation, and the effect of regular exercise on the immune system; Please note that the exercise depends on many different factors such as the intensity, duration, and the level of physical fitness of the individual.
Kaygısız: Regular moderate exercise for at least 150 minutes per week supports the immune system
Kaygısız, "Regular doing of mild to moderate exercises can suppress the functioning of the system, while regular and severe exercise programs play a role in supporting the immune system's functions. 25-45 minutes of exercise every day, or 45-60 minutes of exercise 3 days a week or physical activity is recommended. These exercise modalities can be arranged according to the person's age, endurance and existing disease status. In many studies, it has been shown that at least 150 minutes of regular mild to moderate intensity exercise is beneficial in terms of protecting against many diseases by supporting the immune system. "
The longer and intense the exercise program, the faster the immune system gets tired and causes more frequent illness
"Although exercise has a strong effect on the immune system, it is not true that too much exercise can better protect it from diseases. Too much exercise is as bad as no exercise when it comes to immunity. 45-60 minutes, 3 days a week, or 25-45 minutes of exercise every day, is an ideal option for strengthening the immune system. Intense, long-term exercises suppress the body's immune response. The longer and intense your exercise program is, the sooner your immune system gets tired and the more likely you get sick. It interprets the long exercise periods of the body as stress. Stress-free, norepinephrine and cortisol levels increase, "said the carefree, stressing that these two hormones, identified as stress hormones, tend to suppress the immune system and cause a decrease in the number of immune cells during and after exercise.
Finally, Kaygısız stated "In addition to factors such as a proper nutrition program, regular sleep, and stress avoidance that will support our immune system, a physical activity or exercise program that we love is very important in the process of preventing diseases and getting a healthy age. Although activities such as walking, cycling and swimming in nature can be recommended for all ages that have a positive effect both physically and psychologically, it is necessary for a healthy immune system to adopt a type of exercise that the person likes as a lifestyle. "