EUL Academician Kırsal deemed worthy of "Best Paper Award" in Romania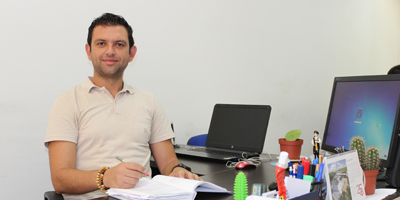 Head of European University of Lefke Faculty of Engineering Department of Electronics & Communication Engineering Assist. Prof. Dr. Yönal Kırsal deemed worthy of "Best Paper Award" in International Conference on Computers Communications and Control that took place in Romania.
Kırsal who represented EUL at Romania pointed out that there was an intense participation to the congress from many parts of the world, and said that he presented his study titled "Exploring analytical models to maintain quality-of-service for resource management using a proactive approach in highly mobile environments" in the congress.
Kırsal said that, "Today there is a rapid increase in high mobile systems and applications. Along with this rapid increase, systems offers the possibility  to use proactive cycle techniques instead of traditional reagents in order to obtain a medium that communicates everywhere to provide a higher quality service to mobile users", and added that in his study, a proactive approach to improve the user productivity is being offered in common sources such as radio channels in wireless networks, and that the study has improved the resource allocation by transferring the proactive model to mobile networks.
Kırsal also pointed out that developed version his study was deemed worthy of being published in the IJCCC journal located at the SCI-E data base and added that he is continuing to work on 5G and 6G technologies in cooperation with the European University of Lefke and London Middlesex University.