Importance of Physiotherapy in Patients with Hip Osteoarthritis and Hip Prosthesis approached by EUL Academician Elibol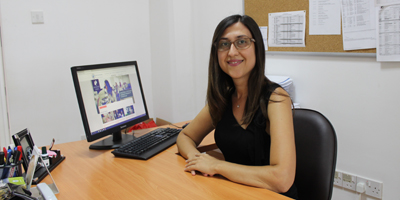 Physiotherapy and Rehabilitation is Vital after Hip Prosthesis
Academician of European University of Lefke (EUL) Faculty of Health Sciences Department of Physiotherapy and Rehabilitation Assist. Prof. Dr. Nuray Elibol emphasized the importance of Physiotherapy in patients with Hip Osteoarthritis and Hip Prosthesis and gave detailed information.
Describing osteoarthritis as one of the most common joint diseases of human motion system, Elibol stated that the most common symptom is pain, and that due to the pain, various degrees of apology, postural and gait disorders occur. Elibol said that, "When osteoarthritis occurs in the hip, hip joint movements are restricted and weakness is observed in the muscles around the hip. Total hip prosthesis is often applied to reduce osteoarthritis pain and improve function, and it is the most commonly used prosthesis type for body,". Elibol also stated that after the hip prosthesis application, the missing functions must be removed or recovered in order to optimally cure the patients and meet the patient expectations and emphasized the importance of Physiotherapy and Rehabilitation after the hip prosthesis.
Elibol said that total hip prosthesis is generally analyzed as four types and listed types as preoperative rehabilitation and information, postoperative rehabilitation and prevention of complications, walking and balance training, home exercises and advice.
Elibol stated that Preoperative rehabilitation and information phase includes; giving information about surgery and limitations that can be seen after surgery, possible complications and their prevention, the equipment to be used after the surgery and the walking aids and to take suitable measures for the walking aids, to have the exercises related to walking and walking related functions and other daily life activities, to provide information about home and environment regulation after surgery, to provide a safe environment for the patient, to inform the patient and the family about possible falls and to educate the patient to prevent falls.
Elibol described the phase of postoperative rehabilitation and prevention of complications as; preventing or minimizing complications such as hip dislocation, deep vein thrombosis, compression injuries, lung complications, hip joint limitation, planning and implementing the most appropriate exercise program for the patient, correcting the pathological walking pattern and providing normal walking, increasing functions and functional level, increasing mobility and providing independence in daily life activities, increasing quality of life, ensuring comeback to work and social life in a safe manner, providing regular physical activity or exercises and necessary recommendations, prolonging the use of the prosthesis or prolonging its life.
Elibol said that, walking and balance training physiotherapy program includes; exercises to develop walking, balance, coordination and proprioception for patients in order to reduce the risk of falling and added that, the patient, family and caregivers are trained in order to prevent falling.
Elibol stated that, in the phase of home exercises and advice, after discharge from the hospital, the patients are practiced at a physiotherapist in the outpatient clinic, or at home with complete training and regular supervision. Elibol finally said that "It has been reported that the home rehabilitation model effectively relieves pain, muscle strength, and functional status and reduces drug usage".