EUL Academician made some statements on the occasion of "International Day for the Elimination of Violence against Women"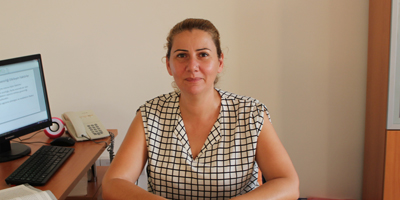 Okray: We all should make an effort to hand down a future free from violence to next generations 
European University of Lefke (EUL) Faculty of Arts & Sciences, Department Head of Psychology, Assoc. Prof. Dr. Zihniye Okray made some statements on the occasion of "November 25th International Day for the Elimination of Violence against Women".
Okray said that in 1999, United Nations General Assembly declared November 25 as the "International Day for the Elimination of Violence against Women" and added that violence against women is a major social problem not only in our country but also around the world. Okray said that although there are many movements conducted with the aim of raising awareness about violence against women, violence and abuse against women cannot be prevented and it is still continuing to increase.
Okray stated that women's murders encountered in the past year and this year that were also reflected in the press of the TRNC have actually proved that violence against women in our country is ever increasing and added that she is against all types of violence as a psychologist and a woman.
Pointing out that awareness must be created to prevent every form of domestic violence and all kinds of violence, Okray stressed that many acts in our society are actually violent but they are not regarded as violence. Okray gave an example and said that, giving a nickname to someone or the condition of restricting someone financially and collecting earned family money under the control of a single person is also an act of violence. Okray emphasized that widespread myths of violence against women is used in our society, and added that the community should be informed about the myths and facts of domestic violence, and that education about violence should be provided at every step of the educational life.
Okray added that they are making efforts to create changes at the social level with the academic works and activities held in the European University of Lefke and added that they are working to hand down a future free from violence to next generations and she wished for a violence free society.