EUL Academician Türksel represented T.R.N.C in Macedonia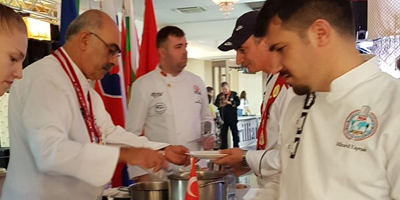 European University of Lefke (EUL) Vocational School of Tourism and Hotel Management Department of Gastronomy Academician Zihni Türksel participated in the "3rd International Gastronomy Festival and Food Competition" which was held at Strumica city of Macedonia and represented the T.R.N.C.
Türksel: Our dishes were well appreciated
Giving information about the event, Türksel said that, as a master chef for three days, he taught a group of local chefs about culinary studies and arts, and in the workshops he gave information about the Cypriot Cuisine and prepared Kolokas, stuffing and cracked wheat pilaf with tomatoes which are local dishes of Cyprus. Türksel further stated that, along with these dishes, appetizers belonging to Cyprus cuisine were prepared and added that these dishes attracted intense attention and they were well appreciated.
Türksel pointed his aim for participating in such an event as introducing the traditional tastes of Cyprus culture to the world, and added that in the fully equipped practice kitchens of EUL, local Cyprus dishes are being prepared and Cyprus culture is being introduced.