EUL Academician Yağmur made some suggestions on healthy diet during winter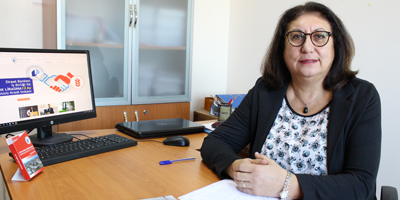 European University of Lefke (EUL) Faculty of Health Sciences Nutrition and Dietetics Department academician Prof. Dr. Cahide Yağmur gave made some explanations about how to maintain a healthy diet during winter time in order to avoid diseases.
Yağmur said that "For adequate and balanced nutrition, first of all, the day should be started with breakfast" and added that during the day, no meals should be skipped, and meals should include at least one nutrient from each food group. Yağmur stated that if necessary snack meals should be included to the diet but these snack meals consist nutritious foods (fruit with nuts-dried fruits, yoghurt, milk, fruits, etc.) rather than junk food and sugared – carbonated beverages. Yağmur said that green-black tea, rosehip, peppermint, thyme, sage and fennel tea containing various bioactive components from hot drinks should be preferred as beverages in the winter months.
Yağmur pointed out that bioactive components found in vegetables ensures healing in metabolic or physiological processes and added that these components at the same time it reduces the risk of diseases by reducing the risk of pathological processes.
Bioactive components found in vegetables
Carotenoids (lycopene, lutein, carotene, zeocastan); they strengthen the immune system. Tomatoes, red-green peppers, carrots, green leafy vegetables, honey platters, citrus fruits, apricots, peaches, watermelon and turnip are good sources of carotenoids. In winter, these foods should be consumed frequently.
Garlic, onion, leek, radish, celery, cabbage, cauliflower and such vegetables must be consumed frequently. These nutrients are also good sources of vitamin C which strengthens immune system.
Vegetable sterols containing bioactive components, which has great amount of pulp and are source of protein, calcium, omega-3, such as nuts (walnuts, hazelnuts, almonds, and peanuts) should be consumed by making energy adjustments that does not exceed 25-30 gr (approximately 200 kcal) per day.
Expressing that omega-3 and vitamin E are nutrients that strengthen the immune system, Yağmur stated that oily fishes rich of omega 3, vegetables such as purslane, vegetable oils such as olive oil and hazelnut oil and hard shelled nuts are important sources of omega 3 and vitamin E.
Yağmur stated that probiotics increase resistance of individuals to pathogens, supply the multiplication of beneficial and prevents multiplication of harmful bacteria in the intestine. Yağmur said that "It has been observed that, with the proliferation of beneficial bacteria in the intestine, cells expressing immunoglobulin antibodies, which play a role in circulating immunity increases .Lactic acid bacteria increases macrophage production and phagocytosis activity. Probiotic-rich foods that protect the body against diseases such as natural and probiotic yogurts, kephir and diluted salted yoghurt drink called ayran, cheese; tarhana, boza and turnip juice obtained by fermentation of cereals, pickles (especially cabbage); and beer yeast should be consumed".
Yağmur said that the probiotics that are necessary for the proliferation of probiotic bacteria in the intestine and the probiotics that constitute the food source should be consumed. These probiotics include; legumes that are starch-rich (white beans, kidney beans, lentils, chickpeas), nutshells (walnuts, almonds, hazelnuts, peanuts), uncooked grains and products (whole wheat flour, oat, bulgur), and vegetables (especially peas, fresh beans).