EUL Academicians' article published in a prestigious journal of sustainability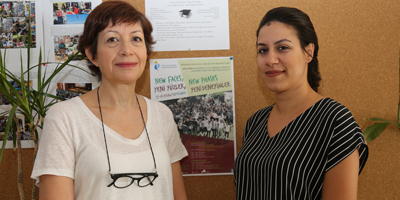 The article aims to develop an exemplary scale to measure social sustainability on an urban scale
The article titled "Measurement of the Social Sustainability with MCSA Model: The Example of Güzelyurt" written by the Dean of European University of Lefke Faculty of Architecture Prof. Dr. Lerzan Aras and the Academician of the same Faculty Dr. Feriha Urfalı is published in a prestigious journal of sustainability titled "Sustainability" which is published by Multidisciplinary Digital Publishing Institute (MDPI) in Sweden.
Urfalı said that "Sustainability is an international, interdisciplinary, scientific and peer-reviewed journal which focuses on environmental, cultural, economic and social sustainability" and stated the aims of their study as developing an exemplary scale to measure social sustainability on an urban scale. Urfalı pointed out that social sustainability, which is an important component of sustainable development, has gained importance with the increasing welfare awareness of the society since the beginning of 2000s and it is very important that cities be sustainable not only in physical context but also for the living indigenous people.
The model named as "The Measurement of the City from Social Aspects" applied in Güzelyurt
Urfalı said that "There is no accepted approach to the definitions, criteria and measurement system of social sustainability yet. In this context, this article proposes a model called model Measurement of the City from Social Aspects (MCSA) to measure social sustainability on an urban scale" and added that the proposed model includes criteria such as belonging, social capital, perceived environment, social interaction & security, space quality, spatial satisfaction and word & effect. Pointing out that this developed model is applied on Güzelyurt region which constantly allows immigrants, Urfalı said that the study uses a quantitative research method and data is collected through a survey of 400 local residents.
Urfalı further stated that "Exploratory factor analysis of the MCSA scale was conducted first to see if the predicted factor structure was present. Afterwards, confirmatory factor analysis was performed for this factor structure. The results of the analysis showed that the structural validity of the scale was quite high. In addition, especially discriminant validity shows that the scale can be used in other cities of similar structure. Thus, social problems in cities can be revealed and solutions can be produced to ensure social sustainability of cities".