EUL draw attention to Breast Cancer with "Walk for Breast Cancer Awareness"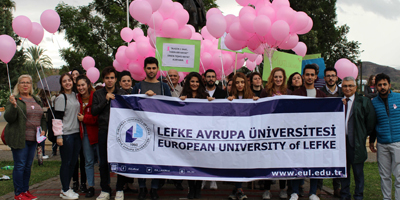 European University of Lefke (EUL) Faculty of Health Sciences organized a "Walk for Breast Cancer Awareness".
Brochures containing information on diagnostic methods in Breast Cancer were handed out to the public.
Within the scope of the Lefke Persimmon Festival, academician and students of EUL Faculty of Health Sciences draw attention to "Breast Cancer" by making a walk with pink balloons and handing out brochures containing information on diagnostic methods in Breast Cancer to the public.
Students and the public expressed their thoughts on "Breast Cancer" in the Walk for Breast Cancer Awareness;
Sena Aydın: I am a third year student in the Department of Nutrition and Dietetics. We should first do the breast examination ourselves at home with practical methods. I've never been to a control. However, after 20 years of age, every woman should do her own breast examination every month. In general, I try to eat healthy and avoid fast food in order to protect myself from cancer. I know that Breast Cancer is the type of cancer that occurs because of the formation of a mass and then spreads to certain areas of the body. Regular physical activity should be done to avoid this type of cancer. The early diagnosis brochure prepared and distributed by the EUL Physiotherapy Club was really informative.
Nermin Şanlıdağ: One of the most practical methods for breast control is breast self-examination. Controls should be done in every 6 months. We were happy to see EUL academicians and students supporting our festival.
Rasiha Egemen: I do the breast examination routine every year because this is a matter worthy of notice. We have experienced breast cancer. My sister was breast cancer. That's why I go to the controls every year. Since that we experienced cancer, we try to be more careful. . My recommendation is that people should prepare everything in their own home and try to avoid fast food. Because there are many products containing additives. In my opinion this walk organized by European University of Lefke was very meaningful.
Özge Kuruoğlu: I'm a nurse. Breast examination is a matter of concern for every woman. There are practical methods to do breast examination at home. However, regular controls should be done every 6 months. It is important to eat healthy in order to be protected from breast cancer. Unfortunately today, there is nothing very organic and we are constantly consuming hormone-injected food. For this reason, we need to be careful about what we eat, and most importantly we should be aware that early diagnosis always saves lives.
Huriye Asya: I do my breast examination regularly with medical advice. In order to be protected from this kind of cancer, we have to pay attention to healthy eating, we have to do sports and we need to raise awareness on these kind of activities. In my opinion this awareness organization of European University of Lefke was well thought.
Sedef Altunbilek: We have to do the first check of the breast examination ourselves. Regular checks should be made every 6 months. Early diagnosis always saves lives and we have to be conscious of it. With this walk for awareness the attention was drawn to breast cancer. Different informative meetings should also be held in order to raise awareness.