EUL Faculty of Agriculture Dean Aşkın, who gave information about Alternative Products to Citrus Agriculture in TRNC; He gave an example of almonds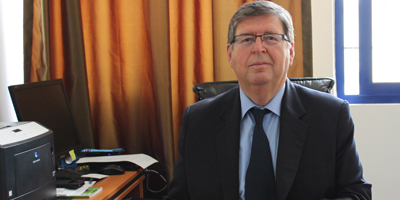 Dean of the European University of Lefke (EUL) Faculty of Agricultural Sciences and Technologies Prof. Dr. Mehmet Atilla Aşkın gave information on Alternative Products to Citrus Agriculture in TRNC and gave an example of alternative product options in his statement.
"The year 2020 has struck us all in the face of the fact that the Covid-19 virus should be confined to the whole world and be content with what they produce. It is a fact we know very well; While living people can give up many things, they cannot give up one thing: nutrition. Aşkın said, "Every living thing has to eat to live" and stated that, during the pandemic process, every country controls its stocks by considering its own people first and behaves sparingly in the export of basic products.
Aşkın: The island of Cyprus is an agricultural paradise with its soil structure and climate.
Emphasizing that the island of Cyprus is an agricultural paradise with its soil structure and climate, Aşkın said, "There has never been another ecology that has surprised and excited me so much in my professional life. "The rapid progress I see in citrus trees while going to school every day astonishes me," he said.
"Agriculture, Tourism and Higher Education are the three important sources of income of the Turkish Republic of Northern Cyprus. Among them, Agriculture differs from others because it is the source of life. Every living thing has to be fed, it is necessary to produce to be fed." He stated that it is a whole of production, storage and product processing (process) processes.
22,685 tons of 99,721 tons of citrus production is produced in Lefke district.
Aşkın shared some information according to 2017 statistics of the TRNC Ministry of Agriculture and Natural Resources as follows; 22,685 tons of 99,721 tons of citrus production is produced in Lefke district, this shows that at least 23% of citrus production is grown in Lefke, together with Güzelyurt district, more than 98% is grown in this region. Of Lefke citrus production, 8.115 tons are oranges (5.090 tons of Valencia, 2.705 tons of Jaffa-Shaimouti), 12.215 tons of mandarins. According to the same statistics, the yield per decare is 2.349 kg in the Valencia variety, 2.639 kg in the Jaffa variety, and 5.000 kg in the Washington variety. 71,098 tons of 99,721 tons of citrus production is exported throughout Northern Cyprus, 24,269 tons are consumed inside, and 3,394 tons are processed as fruit juice. Although, at first glance, citrus agriculture, where more than 72% of the produced is exported, seems very profitable, it is a fact that sales prices cannot cover the cost in general. In citrus agriculture, the amount of water consumed is also an important problem in addition to input costs (pruning, harvesting, pest control, fertilization and irrigation). The amount of water used per decare in citrus gardens is approximately 1000 tons and the amount of water required for only citrus fruits (35 thousand acres) is approximately 35 million cubic meters. only to be given to area citrus water from Turkey will be able to solve this problem, but the TRNC's just the deployment of existing citrus groves water from the fact that 280 million cubic meters the amount of water required for agriculture in all we think the problem will confront us.
Drawing attention to the necessity to consider alternative products that use less water and can be stored for a long time, Aşkın pointed out that in this case, the Cyprus climate is extremely suitable, and said, "The most important products are walnuts, almonds and pistachios, and plums and nectarines from stone fruits. In addition, Avocado, Mango and Banana are important species with greenhouse cultivation. "Most of these species are grown for the domestic market by some large growers," he said.
Aşkın continued his words as follows; These species in water of 2.29165 million Almond is one of the world's production of uses at least tone, Turkey production is 90,000 tons. The United States ranks first in almond production with 1,029,655 tons. In 2016, around 750 thousand tons of shelled almonds were bought and sold all over the world, resulting in a trade volume of 10 billion dollars. Turkey imported 8465 tons of shelled almonds whether this date have paid $ 62 million by exporting 5,733 tons of shelled almonds revenue was $ 66 million. Again on these dates, Europe imported 365.590 tons of almonds and paid about 3 billion dollars (FAO data).
Finally, Aşkın said, "With this article, my aim was to give an example of one of the alternative product options, especially for the whole island of Lefke and Cyprus. In fact, in the coming days, fruit and ornamental plant nursery (most of them are imported) and fruit and vegetable seed breeding should be discussed in the coming days for TRNC agriculture ".