EUL Faculty of Dentistry held an oath-taking ceremony for the first graduates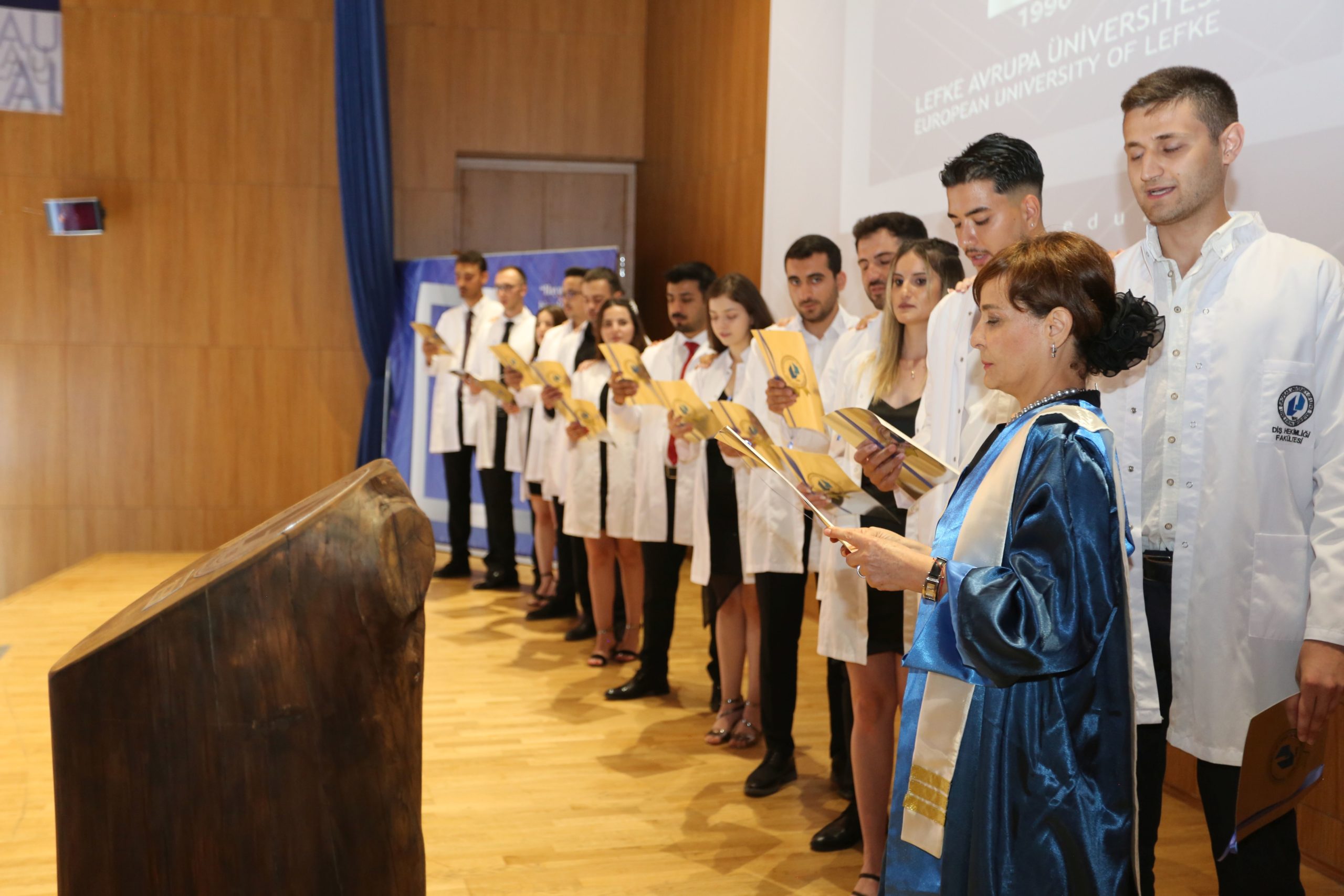 A profession oath ceremony was held for the European University of Lefke (EUL) 2022-2023 Academic Year Faculty of Dentistry graduates.
Vice Rector Prof. Dr. Sadık Ülker, faculty members and student parents attended the ceremony which was organised by the Faculty of Dentistry. The oath ceremony, where the graduates took their first steps into the profession, started with a moment of silence and the National Anthem, followed by opening speeches.
Dean of the Faculty of Dentistry Prof. Dr. Pervin İmirzalıoğlu, who made the opening speech of the Oath Ceremony, stated that the EUL Faculty of Dentistry, which started education in the 2018-2019 Academic Year, is proud to give its first graduates today and stated that the faculty provides a competent education with its ever-growing valuable faculty members, comprehensive curriculum, modern preclinical and phantom laboratories in pre-clinical practical education, and equipped clinics in clinical education. Prof. Dr. İmirzalıoğlu congratulated the families of the graduates and said, "Dentistry is a very special profession. It includes art as well as medicine, but it is a demanding profession, that is, you make a lot of effort, you get tired, but the reward is great and pleasing. I wish you to practice your profession with this enthusiasm. I sincerely congratulate you on this special day, may your path always be clear."
At the ceremony, which was also attended by the guest of honour, Faculty of Dentistry Dean Prof. Dr. Bengül Yurdukoru, the valedictorian of the faculty, Deniz Demirel made a speech and talked about the quality and practical education she received at EUL. Demirel also thanked all the academicians and nailed his name plate to the graduation log at the ceremony.
In the ceremony programme, which continued with the faculty academicians putting on the white coats of all graduates, the Dentistry graduates took their first steps into their professional lives by taking their oaths accompanied by the dean İmirzalıoğlu.