EUL Faculty of Health Sciences Dean Hablemitoğlu made a statement on Patient Rights Day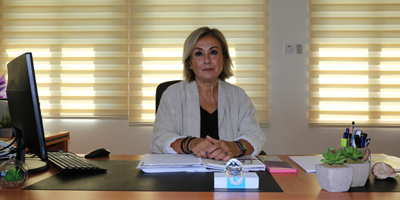 It is important to inform the society about patient rights and responsibilities in order to benefit from health services fairly
Dean of European University of Lefke (EUL) Faculty of Health Sciences Prof. Dr. Şengül Hablemitoğlu made a statement on the occasion of October 26th, Patient Rights Day.
Hablemitoğlu said, "Patient Rights are the rights that are guaranteed by various agreements and legislations at international and national level, aiming that individuals are not harmed, autonomous and able to receive a fair health service by taking into account the benefit of them". It was adopted with the Lisbon Declaration published in the General Assembly of the Union of Medicine, and then revised at the 47th World Medical Association Congress convened in Bali in 1995 and revised and corrected at the 171st Council Session in Chile in 2005.
Hablemitoğlu continued her statement as follows: October 26 has been accepted as "Patient Rights Day". In order to ensure that everyone who receives health services benefits under equal conditions, is protected from violations of rights, and can take legal action if necessary, countries' own legislations have become supported. A common point of view of Patient Rights legislation is that patient rights are fundamental human rights. In addition, patient rights are the reflection of human rights in the field of health services. Procedures and principles should be regulated in all institutions and organizations where health care is provided, and in cases where health care is provided outside of health institutions and organizations, so that everyone can benefit from "patient rights" in a manner befitting human dignity, to be protected from violations of rights and to actually use legal protection when necessary.
Hablemitoğlu listed patient rights as the opportunities that a health institution should provide to the patient within the service it provides, and listed these rights as follows;
• General use of the service
• Informing and requesting information
• Selecting and changing the health institution and personnel
• Privacy
• Consent/consent
• Receiving health services in a safe environment
• Meeting their spiritual needs
• Dignity and comfort
• Keeping visitors and companions
• Complaint and litigation rights
As well as the rights of patients, their responsibilities towards the institution they receive health care are equally important.
Pointing out that patients' rights are as important as their responsibilities towards the institution they receive health care, Hablemitoğlu said, "Being in compliance with the rules and practices of the health institution and institution they apply to, and acting with the awareness that they are a part of the diagnosis and treatment team with a participatory approach, Giving information about the previous diseases, treatments and medical interventions, current medications and health information, if any, as complete and accurate as possible, coming to the control at the times determined by the physician and giving feedback about the treatment process, complying with the appointment dates and times and making changes to the relevant places. reporting; Responsibilities not to engage in verbal and physical attacks on the personnel, and to apply to the patient communication unit when they think their rights have been violated or have problems, are as effective as the patient's rights in the realization of health care services.
Hablemitoğlu made the following statements at the end of his statement; The current global pandemic has once again been instrumental in understanding the need for these rights and responsibilities regarding certain restrictions and interventions in order to protect public health. Health is a basic human right. It is important to inform the society about patient rights and responsibilities in order to provide more effective and safe health services and to benefit from these services fairly. In addition, patients' rights should be protected in order to minimize the problems that the patient may encounter in the provision of health services due to insufficient knowledge of the physician and the hospital, and to ensure that health services are provided in optimal conditions.