EUL Faculty of Health Sciences represented the TRNC in Prague, the capital of the Czech Republic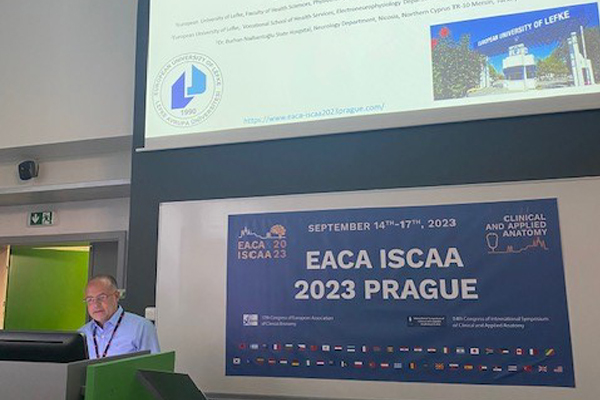 EUL was represented at the International Congress of Clinical Anatomy, which is held every year in a European capital and held in Prague, the capital of the Czech Republic, between September 14-17, 2023 in cooperation with the 17th European Association of Clinical Anatomy (EACA) and the 14th International Symposium of Clinical and Applied Anatomy (ISCAA) and accredited by the European Accreditation Council for Continuing Medical Education (EACCME®) with 17 CME credits. European University of Lefke Faculty of Health Sciences, the only university participating in the congress from Cyprus, was represented with the participation of lecturer Asst. Prof. Dr. Musa Muhtaroğlu from the Department of Physiotherapy and Rehabilitation.
Muhtaroğlu presented his oral study titled "The Incidence and Anatomic Pattern of Isolated Pons Infarct in Northern Cyprus: A Single-Centered Retrospective Study) and (A Successful Treatment of Hemifacial Spasm After Flow Diverter Stent Placement for Ipsilateral Internal Carotis Artery Sacculer Aneurysm: A Case Report) as a poster presentation.
Muhtaroğlu, who represented the European University of Lefke, Faculty of Health Sciences, Department of Physiotherapy and Rehabilitation at the congress attended by hundreds of academicians from many countries around the world, stated that he received great appreciation and admiration with his poster and oral presentation and also stated that the abstracts of the congress proceedings will be published in the journal "Surgical and Radiological Anatomy" scanned in WoS.