EUL Gastronmy students offered the tastes they prepared to their friends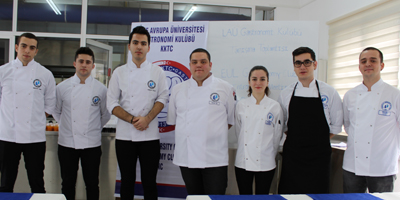 "Acquaintance Meeting" organized by European Universty of Lefke Gastronomy Club was held at EUL Practice Kitchen. Freshman students, gastronomy prep students and senior year students attended the organization which aimed to bind Gastronomy students together.
In the event which attracted intensive interest, the students of the gastronomy department had a chance to socialize and to get detailed information about their departments. Food and beverages prepared specially for the event by students of gastronomy department were offered to the students who had the chance to see and taste the application samples in the fully equipped application kitchen.
The students who attended the meeting expressed their feelings and thoughts:
Arda Er: I'm the president of the Gastronomy Club. The purpose of this activity is to bind our friends in the prep together with our friends in the department, to give information about the department, to explain what we are doing and what we will do. Activities that our club has done and will conduct was discussed.
Cannur Taşdemir: I'm a 3rd year student in the Department of Gastronomy, I am from Istanbul. In order to learn about the feelings and thoughts of our friend in the prep, we have performed activities. The concept of organizing is very important in gastronomy and we are very fortunate to have this opportunity.
Aslı Çekim: I'm a student in the prep school of Gastronomy Department. I enjoyed the event very much. It was a fruitful meeting in terms of sharing and giving information to the students. I have preferred EULs Gastronomy Department thinking that the training was fully equipped. I think that EUL will bring us a lot.
Alper Demirel: First of all, I would like to thank EUL for supporting us. Our school care about Department of Gastronomy. It makes us very happy to do such activities.
Melih Uysal: I am the general secretary of the Gastronomy Club. As Gastronomy Club we started to organize different events this year. It makes us happy to see that the gastronomy department is getting more interesting.
Hasan Öcal: The event is very nice, we organize entertaining activities as gastronomy students. EUL practice kitchen has all kinds of equipment's that should be in a kitchen that practices the field of gastronomy.