EUL Graduate Çakmen shared his experiences at the event on "Waterways and Art Structures"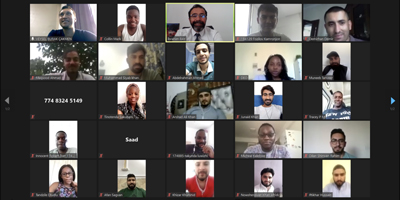 Organized by the European University of Lefke Civil Engineering Department, the online event themed "Waterways and Art Structures" was held with the participation of EUL Graduate, 9th Regional Directorate of Highways Art Structures Chief Engineer Veysel Burak Çakmen.
Çakmen, who attended the session  moderated by EUL Civil Engineering Department Faculty Member Asst. Prof. Dr. İbrahim Bay as a guest speaker, started his speech by emphasizing that all engineer candidates who graduated from TRNC universities would be successful if they could improve themselves.
Continuing his career as the 9th Regional Directorate of Highways Engineering Chief Engineer, Çakmen made his presentation at the meeting held with the students of the EUL Civil Engineering Department in an area where two complex topics such as hydraulics and highway design meet. Çakmen states that an art structure (a design built on a river that allows water to pass through) should be designed according to the rainfall in that region, the topographic structure of the region, and the carrying capacity of the river bed, otherwise it may result in floods, landslides, material losses and maybe even loss of life. level of attention needed.
Çakmen stated that after the analysis of precipitation data, the watershed management and the needed art structures should be designed sensitively to the stream flow, and he shared in detail the technical information about a viaduct he designed and the art structures around it and the stages of the designs with the EUL Civil Engineering Department students.
Veysel Burak Çakmen, who answered the technical questions from the students after the presentation, gave professional advice to the students and wished them to work hard throughout their university life and become successful engineers in their careers.