EUL Law student represented EUL at the international congress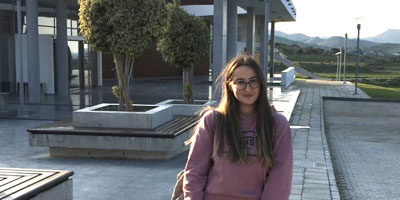 European University of Lefke (EUL) Faculty of Law second grade student Selcen Yetişkin represented EUL in the 1st International Symposium of Law Students held on 13th December 2020 with her presentation entitled ""The Basis of the Declaration of Women in Turkish Law".
Giving information about the symposium, Yetişkin said; "I made a presentation on behalf of our university at the 1st International Law Students Congress held jointly by Istanbul Gedik University Faculty of Law, Germany Bielefeld University Faculty of Law and Kassel University Law Faculty and I was deemed worthy of honor certificate. My paper will be published as a congress book in the Special Issue of Istanbul Gedik Faculty of Law ".
Yetişkin gave the following information about the presentation content she prepared:
The Basis of the Statement of Women in Turkish Law
One of the biggest problems arising from the gender inequality between women and men in the society is violence. Sexual crimes occur as a result of sexual violence, which is one of the types of violence. Due to the nature of sexual crimes, they do not have sufficient witnesses and evidence. Therefore, in sexual assault cases, some problems arise during the trial, such as the perpetrator generally going unpunished. As a solution to this situation, it has been thought that "Statement of Women Become Essential".
Statement of the woman is essential; In cases where the evidence cannot be found despite the investigation, taking into account the special circumstances of the incident, if the court has reached an opinion that the crime exists, it has emerged so that the accused can be punished. Unfortunately, this practice is a controversial practice in our society because its meaning can be distorted and used for personal or political purposes. For this reason, it is very important to implement this application in the most correct way, otherwise it is against the presumption of innocence, which is one of the basic principles of the law, and may cause bigger problems.