EUL Law student will represent EUL at the international congress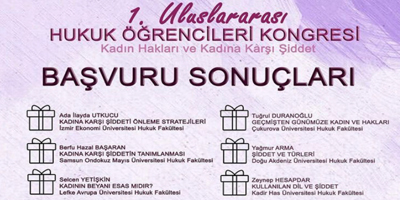 European University of Lefke (EUL) Faculty of Law 2nd grade student Selcen Yetişkin will represent EUL at the 1st The International Law Students congress which will take place on December 13, 2020 in which all Turkey Faculty of Law students will provide notification Symposium and leading for students from "Women's Principles That the Declaration in Turkish Law" His presentation, titled, was found successful by the paper evaluation jury.
Yetişkin will make a presentation on behalf of EUL at the 1st International Law Students Congress held jointly by Istanbul Gedik University Faculty of Law, Germany Bielefeld University Faculty of Law and Kassel University Faculty of Law and the Law World platform.
EUL Student Yetişkin took place among 8 successful people with his presentation
Yetişkin, mentioned as "I will be able to present a paper in this scientific event on the occasion of winning a contest where 8 successful people will be selected with presentations on women's rights and violence against women in the contents we have determined in order to make a presentation at this international congress." He stated that the presented paper will be published as a congress book in the Special Issue of Istanbul Gedik University Faculty of Law.
Providing brief information about the content of the presentation, Yetişkin said, "One of the biggest problems arising from the gender inequality between women and men in the society is sexual violence. The measures taken against sexual violence are not sufficient and a new measure is being considered every day. One of the issues to be considered in this precaution is that the perpetrators generally go unpunished in sexual assault cases. He said, as a solution to this problem, the "Declaration of the Woman is Essential Principle", which caused a lot of controversy.