EUL organized a Charity Dining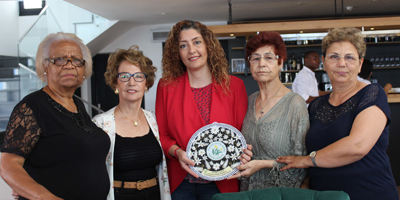 Support to "Charity for Cancer Patients" from EUL
European University of Lefke (EUL) organized a charity dining which was held at EUL Lounge with the aim of supporting Charity for Cancer Patients.
In the event which was held with intense participation, President of Charity for Cancer Patients Güney Aktulga said that "Today, we thank the EUL management, members of the association and our friends who have never withhold their supports from us. Pointing out the aim of the charity as helping cancer patients from all ages, Aktulga said that the point of origin of all events is the question "how can we help them". Aktulga pointed out that they have realized this charity dining with the help of one of the distinguished education centers of the region EUL and Rector of EUL Prof. Dr. Mehmet Ali Yükselen. Aktulga stated that with the organization they have obtained a financial contribution and thanked everyone who have contributed via participating in the organization.
Vice President of Lefke Charity for Cancer Patients Gültan Bayramoğlu said that, "Our goal in holding this organization is to help all cancer patients. Because cancer patients have a lot of needs, so making difference in the life of even a single patient makes us very happy". Bayramoğlu pointed out that he is very pleased with the organization and thanked EUL Administration and  Rector of EUL Prof. Dr. Mehmet Ali Yükselen who have hosted.
The members and guests who participated in the Charity Dining expressed their feelings as follows:
Hatice Kızılkoz: I am a member of Lefke Charity for Cancer Patients. I have lost three persons from my family due to this disease. Thus, we are doing the best we can. I am very pleased with the contributions of EUL.
Ayça Dinçoğlu: I recommend that such useful activities be done more often. As the activities are done, more people can be reached and more support can be made. EUL's hosting of this event was great.
Tuncay Doğan: We are taking part in this event with the aim of helping patients. It is a good thing that the university supports such organizations.
Müge Hüdaverdi: I live in Australia, I am in Cyprus for holiday and I am touched by the fact that participating in this kind of event in Cyprus. Because my father died because of cancer. I am very glad that EUL supports these kinds of events.
Nafia Dayıoğlu Demirel: I am sure that these donations will reach the right place. Cancer has increased a lot in Cyprus. These donations are really necessary because the cancer is an expensive treatment, so these help to complete the requirements. As a cancer patient, I continue to help them with all my strength. I heartily congratulate EUL for supporting these kinds of events, it is a very good act. We praise EUL for supporting this activity.
Ümran Şahbaz: I lived in Australia for a long time, we came to settle here. I came here upon invitation, this is a very nice organization. The hosting of the university is also very meaningful.