EUL Represented in Turkey – Africa Economic Cooperation Conference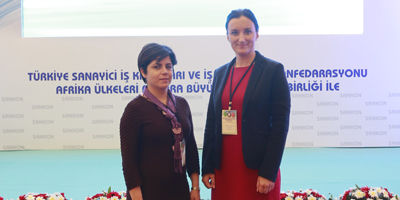 Turkey- Africa Economic Cooperation Conference held in Ankara in October
European University of Lefke (EUL) Vice Rector, Prof. Dr. Carolina Smochina, and Faculty of Economics and Administrative Sciences academician, Associate Professor Gözde İnal Cavlan, attended the conference themed Turkey- Africa Economic Cooperation in Ankara. Smochina and Cavlan informed the participants about the university and evaluated opportunities for cooperation in the field of education and training.
The opening speech of the Turkey-Africa Economic Cooperation Conference was made by Emine Atasoy, Chairperson of the Turkish Industrialists' Businesswomen's and Businessmen's Confederation. Atasoy thanked the participants and said "The African Economic Cooperation Conference in Turkey, which we held today, will contribute to our economic and commercial relations between Turkey and African States. The relations between Turkey and the African continent have a history of thousand years. From now on, these relationships will continue."
The conference, which aims to promote economic and commercial cooperation between Turkey and African countries, attracted considerable attention. Investment agencies, chambers of commerce and industry, business people and investors, as well as participants from the TRNC attended to the conference which was organized by the Confederation of Industrialist Businesswomen and Businessmen (SANKON) and the Diplomatic Corps of African Embassies.  Some of the 54 African countries participating in the conference were: People's Democratic Republic of Algeria, Democratic Republic of Congo, Republic of Ghana, Republic of South Africa, Republic of Cameroon, Federal Republic of Nigeria, Zimbabwe Republic, Uganda Republic, Rwanda Republic, Tunisia Republic, and Zambia Republic.