EUL Student at the Antalya Golden Orange Film Festival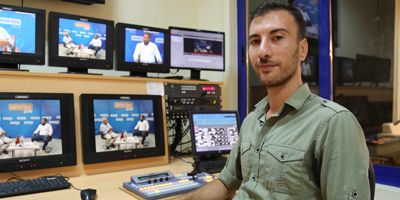 Student of European University of Lefke (EUL) Faculty of Communication Sciences Department of Radia Television and Cinema Mert Kurga was entitled to take part in the 'Cinema School' event, which will be held as part of the 56th Antalya Golden Orange Film Festival.
EUL student will be the guest of the festival within the scope of his projects with cinema
According to the official website of Antalya Golden Orange Film Festival; it is stated that Antalya Golden Orange Film Festival which is the most important meeting point of Turkish Cinema and Film sector since 1964 and which has become one of the most prestigious film festivals of Asia and Europe continents, is preparing to meet cinema lovers for the 56th time. It is stated that Golden Orange Cinema School which will be held for the first time in the festival that will include film screenings, competitions and forums in various categories, is a youth project aiming to enable university students who dream of a future in the field of culture, art and cinema to take the first steps of their dreams. It is reported that 100 students studying in the radio, television, cinema, media, communication and visual arts departments of the universities will be hosted in Antalya Golden Orange Film Festival.
Mert Kurga who was able to rank among 100 students in total by taking into consideration criteria such as grade point average, projects related to cinema, short films and documentary films expressed his feelings as follows;
Kurga: We are able to conduct projects thanks to the opportunities offered by our university
As the students of Radio, TV and Cinema we are able to develop projects and implement these projects thanks to the opportunities and education provided by our university. During my education here, I have had two short films and one documentary film, and I have taken part in many short film projects of my friends. It is very important for me that I have been selected to film school among many students. I will represent EUL at the festival in Antalya and I am very happy to be involved in this project, and I would like to thank our university and instructors.