EUL students carried out a charity event for the benefit of street animals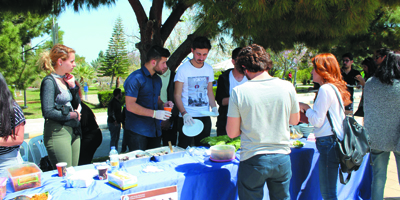 Under the leadership of European University of Lefke (EUL) Students' Dean Office and Castrate, Immunize, Help it Live (KAY) Club Advisor Emel Yilmaz a charity event was realized for the benefit of street animals.
Giving information about the charity event that took place in the EUL Plaza Area, Yılmaz stated that they have conducted many activities for street animals each year and stated that they have carried out the charity event this year as one of the activities on reducing violence against animals and increasing social sensitivity. Yilmaz has stated that announcements are made about the club activities, hand brochures for the promotion of the club are distributed and that new members are included in the club.
The Chairman of the EUL KAY Club, Özge Arzu Berksoy, stated that the activities were carried out with the aim of meeting the welfare, accommodation and medical needs of the animals. Berksoy stated that the income from the event will meet the needs of the animals for food and beverage, housing and hospital expenses. Berksoy expressed that they will continue to work for a longer and healthier life by neutering animals under the slogan "It is a right to live on the street" as a club.
In the charity event, where various products made by students were sold, EUL academicians, staff and students have shown support.