EUL students celebrated Diwali Festival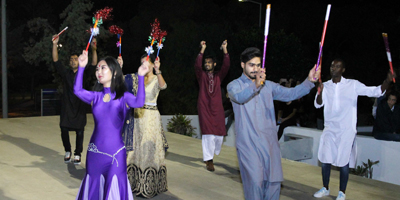 European University of Lefke (EUL) Centre of Social and Cultural Activities and Tourism Club organized an event titled "Diwali Festival" at EUL Plaza. Diwali, which means beam of light in Indian, is one of the leading festivals in India. This event, in which the lights play the leading role, aims to raise awareness of the triumph of light over darkness, of good over evil, and of knowledge over ignorance.
Diwali Festival was organized with the aim of introducing Indian Culture to EUL students, showing what was done within the festival, introducing Indian music and dances and raising awareness, bringing EUL students together and giving the opportunity of listening to Indian music and watching dance performances. Within the scope of the festival, students' speeches, cultural shows, candles and light shows were held.
The Tourism Club informed that different events will be organized during the year.
The students, who were happy to come together at Diwali Festival, expressed their feelings and thoughts as follows: 
Milena Nurlan: I'm a student in the Department of Tourism. Our goal is to introduce a different culture to other students, to keep the Indian atmosphere alive for our other friends, to give a chance to get to know a new culture and to keep morale before the midterm exams.
Tauseff Anwar:  I'm studying in the Department of Tourism. Our aim is to introduce a new culture which the students have not seen before and to create different social activities with the beauty of each culture.
 Jay Joshı: I am a student of Electronics and Communication Engineering Department. I've been to Diwali festival before. We had the opportunity to have a good time with our fellow students from other cultures during the night, where light shows and Indian music and local dances took place.