EUL students celebrated "World Museums Week" with Yeşilyurt Special Education Center students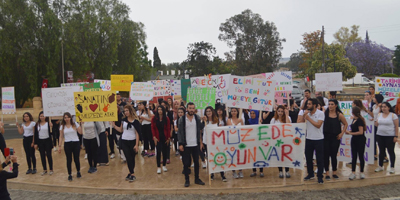 The second of the "Hey Kids Let's Go to the Museum" event took place on the World Fairy Week on the initiative of European University of Lefke (EUL) Dr. Fazıl Küçük Member of the Faculty Asst. Prof. Dr. Ferda Öztürk Kömleksiz.
Students attending Yeşilyurt Special Education Center have celebrated the "World Museums Week" in Güzelyurt Nature and Archeology Museum in the presence of EUL Preschool Teacher Drama Class students.
In the study conducted within the scope of museum education process, museum education studies including creative drama including affective achievements taking advantage of the objects in archeology museums which is an important heritage, took place. The event started with the drama work and the feast prepared by students from Yeşilyurt Special Education Center, starting from the legend of "Midas'ın Kulakları".
In the course of the work, Yeşilyurt Special Education Center students went to the excavation area prepared for them and took their place as an archaeologist in the role of archaeologist and made exploration and finding works to find the pieces and remains that were placed in the excavation area by digging with these field shovels, brushes, anchors and excavations prepared for them. Students who learn by doing in the museum experience the stages of an archaeological work as an archaeologist at the same time. Students who are "museum friendly" have experienced a day that they will never forget.