EUL Students displayed Exemplary Behavior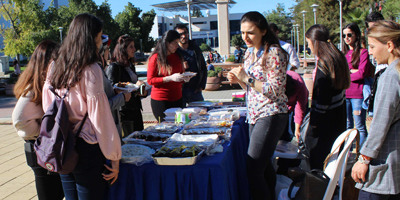 A Fair aimed at Lapta Nursing Home and Youth Centre was organized
European University of Lefke (EUL) students continue to display exemplary behaviors with their social awareness projects organized with the understanding of serving the society. Two different events aimed at elderly and youth were organized by the Social Services Club affiliated to the Office of Students' Dean.
The fair which was aimed at Social Services Children and Youth Office was held at the grass field in front of the EUL Faculty of Health Sciences. The income obtained by the students at the rice day event was delivered to the institution and various gifts were presented to children and youth by the institution.
In the other event which was held at the EUL plaza, it was aimed to evoke that the elderly are not alone with selling several goods at the stands set by the students of the Social Services Club. Academicians, staff and students of the EUL supported the event and the income obtained after the sale was donated to the Social Services Department Lapta Nursing Home.