EUL students donated clothes to the Red Crescent Society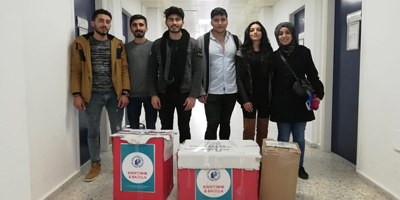 European University of Lefke (EUL) Dr. Fazıl Küçük Education Faculty Guidance and Psychological Counseling Department students organized a clothing collection campaign for individuals in need, in cooperation with the Red Crescent Association, with the slogan "Saving and Donating" within the scope of community service practices.
The project aimed to strengthen interpersonal assistance and solidarity.
EUL students collected clothing donations by meeting with boutiques in Güzelyurt and Gemikonağı within the scope of the project. In addition, students collected clothes by creating clothes collection points in the EUL campus. In the project, which sets an example in order to strengthen interpersonal cooperation and solidarity and to spread the feeling of sharing, a meaningful bridge was created between individuals in need in the society and those who want to help.
EUL students stated that they can contribute to the Red Crescent Society to a small extent with the projects they organize and that they are very happy to help individuals in need by creating communities with small touches.