EUL Students Making a Difference with Community Service Practices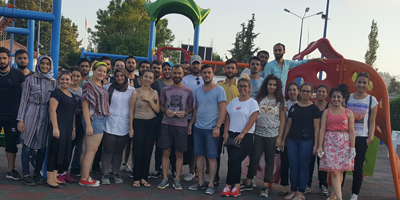 European University of Lefke Dr. Fazıl Küçük Faculty of Education students carried out a landscape arrangement which was held at the Lefke Atatürk Park as part of Community Service Practices course.
Students, who carried out their practices at Lefke Atatürk Park between 4th July and 10th August, aimed to create an environment for the Lefke inhabitants who are between the ages of 3-12 to spend time with their families and play in a clean and safe setting.
With Cooperation and solidarity EUL is creating individuals who are beneficial to the society and willing the make a difference
Dr. Fazıl Küçük Faculty of Education Pre School Teaching Chief of Department Assist. Prof. Dr. Çağda Kıvanç Çağanağa pointed out that, within the scope of the project, students had decorated the park with flowers, cleaned the park, painted the walls and iron railings around the park, and in this context, she emphasized that they have reached the aim of the course. Çağanağa also pointed out that this was a great achievement in terms of creating individuals to be beneficial to the society, and willing to make a difference.
Çağanağa emphasized that, improving social responsibility awareness, being able to deal with the problems of the society before the service, and finding solutions to these problems are as important as practicing their profession. She also expressed her sincere thanks for those students who contributed to the exhibition and for the Lefke Mayor Aziz Kaya for his contributions to the project.