EUL students organised a bazaar in support of the Champion Angels Association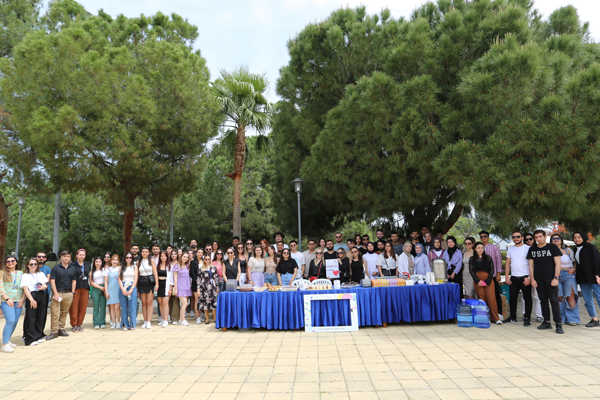 The EUL Psychology Club, affiliated with the European University of Lefke (EUL) Social and Cultural Activities Centre, organised a bazaar to support the "Champion Angels Association" within the scope of the social responsibility project. The bazaar, organised with the support of the EUL Psychology Club and Social and Cultural Activities Centre, was held with the theme "Now is the Time for Unity".
Lecturer, Beliz Köroğlu stated that Psychology Club President Gülsena Yaman, Vice President İrfan Kerelti, and all Psychology Club members made the necessary arrangements for the bazaar, that the activity was carried out as a day-long event, and that the students who are members of the Psychology Club offered food, etc., which they prepared with devotion, for sale at the stand.
In addition, with the academic poster presentations organised in the bazaar area with the contributions of the Psychology Department students, the students of the department shared their projects in the bazaar area. Köroğlu stated that the interest and participation of the students in both the academic posters and the social responsibility project were intense.
On the other hand, some posters were presented within the scope of the event, and they were evaluated by the faculty members of the Department of Psychology of the Faculty of Arts and Sciences during the day, and the owners of the academic posters with the highest scores were awarded plaques. In this context, Eylem Yaşar, İbrahim Sade, and Onur Gencer received the "Youngest Poster" award, Ahmet Durlanık, Duygu Önöz, and Doran Aslan received the "Most Creative Topic" award, Gizem Yıldız and Melike Altıntaş received the "Promising Research" award, Eftelya Taşkıran, Büşra Nal, and Waddah Abdala received the "Best Poster Design" award, and Ceren Öcalan and Nida Nur Çetin received the "Most Current Topic" award.
Köroğlu stated that the income obtained at the end of the bazaar, which aimed to raise awareness with this event, was donated to the "Champion Angels Association". Köroğlu thanked everyone who contributed to the bazaar and kept the event alive throughout the day with poster presentations on behalf of the Psychology Club.