EUL TV Offers the Opportunity of Practice to Students who are Interested in Broadcasting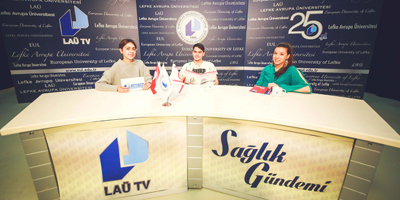 EUL TV incorporated with European University of Lefke, offers the opportunity of practice to students who are interested in broadcasting with its studios equipped with the latest technology. In the studios where students of Communication Sciences Faculty are allowed to practice, students are also gaining experience with active practices related with the sector.
EUL TV, which offers a student-centered service, also undertakes an effective role in evaluating the leisure time of the students by educating other faculty students who are interested in television as well as the students of the Communication Sciences Faculty of the university. EUL TV, which is the practice channel of the university, can be watched over the terrestrial broadcasting network in all regions as well as over the internet.
Programs prepared in fully equipped studios are broadcasted via Youtube
EUL TV which offers trainings on subjects such as television program making, newscasting, live television broadcasting, stage management, cameraman profession, video editing, visual effect techniques, sound in television, lighting techniques and photography, carries out these trainings with experienced staff in the television industry and academicians.
TV programs, short films, news films produced by students who are receiving training from EUL TV are broadcasted on EUL TV and the university's official YouTube channel.  EUL TV which produces content for North Cyprus national TV channels, assigns a duty to students who are volunteer and prepares them to the professional life in terms of responsibility and duty awareness.