Every kind of Opportunity is offered In the Dental Prosthesis Laboratory of EUL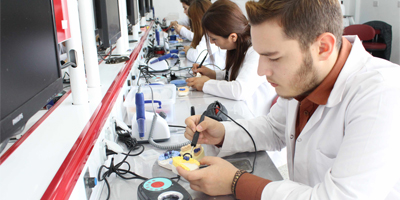 European University of Lefke (EUL) Vocational School of Health Services Academician İlkay Diren gave information about Dental Prosthesis Technicians and fully equipped Laboratories located in the department.
Pointing out that Dental Prosthesis Department is a department that can be preferred by students, Diren said that in order to restore the teeth and its functions; dental prosthesis technicians who perform laboratory studies of removable and fixed dental and jaw prostheses applied to the jaw area according to the treatment planned by the dentist are being trained in the department.
Diren; "This is the dream laboratory of my 35 year old career
Diren said that, "This department is a profession that will enable students to get involved in life, to learn the profession quickly, and to stand on their feet" and added that EUL students are offered the chance to practice with consumable material and they have a profession after two years of education.
Diren said that, besides the offered theoretical information, practices carried out in the field is also of importance and added that "I am in a laboratory that I have been dreaming for 35 years, we are trying to provide students with the opportunity to work with technological equipment and facilities while conveying this information to the students,".
Diren, "Every student has an individual practice table in the Dental Prosthesis Laboratory"
Diren stated that each practice conducted in relation with the oral care is prepared in the dental prosthesis laboratory. Diren also pointed out that they do fixed and removable dentures in a fully equipped dental prosthesis lab., and added that in fixed dentures there are implants and porcelains and in removable dentures there are dentures from every branch such as Total and Parsiel prostheses. Diren said that "The most important thing is that every student has an individual table, lighted, vacuum, electric candle, and a micromotor that offers the chance to make models". Diren also pointed out that while the theoretical lectures are being taught and practical applications are carried out, there is also a digital visual system, which makes it easier for the students to learn the application lessons.
Diren said that in the dental prosthesis laboratory, the students usually work on phantom models and by doing so they monitor the patient's mouth and the jaw and teeth on the phantoms.