Exemplary behaviour from EUL students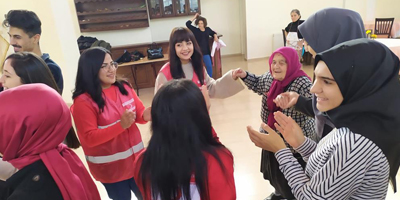 Within the scope of the event titled "Traditional Conversations Journey to the Elderly with Music and Chat "organized by the European University of Lefke (EUL) Red Crescent Club and Music Club, elderly members of the Lefke Pioneer Women's Organization were visited.
EUL Music Club sang nostalgic songs from past to present during the visit
During the event, EUL students came together with the seniors in the Pioneer Women's Organization within the scope of the traditional conversations and visits and had the opportunity to spend quality time together by chatting about past games, activities played in leisure time. EUL Music Club performed an unforgettable music performance for the elderly with nostalgic songs from the past to the present.
Exemplary behaviour of EUL students was appreciated
At the event, which aimed to increase social responsibility of EUL students, students had the opportunity to have fun and chat with the elderly. Exemplary behaviour of the students who did not forget about our elders and had good time with them was appreciated by the members of the association.