"Family Mediation" training held at EUL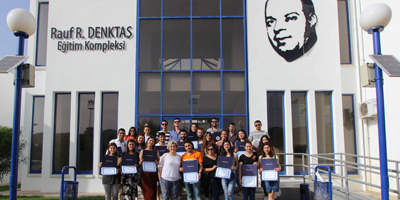 European University of Lefke Faculty of Health Sciences Social Services Department organized a training programme titled "Family Mediation". Many students from the departments of social services, guidance and psychological consultancy and special education attended the training which was offered by the Chief of Social Services Department Prof. Dr. Şengül Hablemitoğlu.
Hablemitoğlu gave information about family mediation and said that; "Family mediation is a new way of solving family problems. The basis of many family problems is communication. It is important for family members to listen effectively to each other and to understand their problems in a healthy way. The family mediator helps family members to share their common problems, to talk to each other without judging, to make joint decisions, and to resolve conflicts."
Hablemitoğlu explained the purpose of the training as providing participants with the necessary knowledge and skills to support their family during the family mediation process and added that the training is an interactive modular program of 12 hours and 4 hours is conducted in the form of workshops based on case studies. Hablemitoğlu said that "It is important for family members to effectively listen and understand each other in order to solve the problems in a healthy way." She also added that for this reason participants in the training were provided with opportunities for conflict resolution and negotiation.
Abilities and skills of a family mediator were obtained
Within the framework of the 2 days training Hablemitoğlu gave information about; Family Mediation, Theoretical Approaches in Family Mediation, Conflict and Problem Solving, Communication and Interview Skills in Mediation, Family Life Periods and Divorce Mediation Processes, Ethics and Legal Issues in Family Mediation, Family Counselling, Mediation in Health and Social Processes, Family Mediation in Judicial Process Discussing the mediation process with cases and scenarios, Discussing the scenarios prepared by the participants with super-vision and semi-structured creative drama.
Lastly, she added that this training offered the possibility of attaining the competence and the ability to make family mediation and added that a "Family Mediation Certificate" was presented to the participants at the end of the training.