Famous Chef Özrek shared his Experiences with EUL Students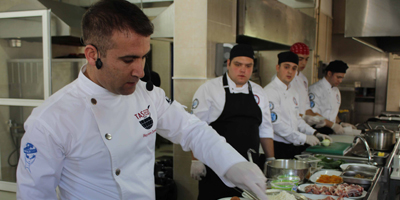 European University of Lefke (EUL) School of Tourism & Hotel Management and Gastronomy Club organized a "Gastronomy Workshop". General Secretary of Cooks and Chefs Federation of Turkey Bayram Özrek attended the workshop as a guest. The workshop was conducted at the Practice Kitchen of EUL with the participation of Gastronomy Department students and academicians.
Özrek: "Cookery is a form art"
Talking about cooking and presentation, Özrek pointed out the importance of presentation of a dish as well as it's taste and gave the students detailed information about the delicacy of the cookery profession. Özrek said that this profession should be done with love and every new dish should be prepared with care and diligence and added that hygienic rules must be applied in the kitchen. Pointed out that cookery is a form of art, Özrek said that " Every chef working in the kitchen should not only be responsible for cooking in the kitchen, but he / she should know the cooking profession from A to Z very well,". Özrek also explained the place of the Turkish Cuisine in the world and how it is promoted.
In his presentation which took place at the Practice Kitchen, Özrek made Black cabbage Soup which is known at Black sea Region, Perde Pilavı (traditional kind of rice) which is an important and extant dish of Eastern Anatolia and Seljukians, and Kereduse which is a rare dish of Eastern Turkey together with the students. The meals prepared after the presentations were offered to the academicians and Gastronomy students.
Academician of School of Tourism & Hotel Management Department of Gastronomy Zihni Türksel offered a certificate of appreciation to Özrek for the information he has delivered.