Famous sports writer Erman Toroğlu talked football in EUL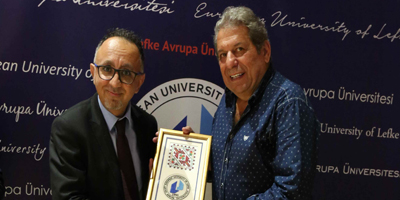 The former footballer and referee, famous football commentator, television program host and sports writer Erman Toroğlu and Sports Turkey Chairman Nedim Delibaş were welcomed as part of the "May Interviews in EUL" organized by European University of Lefke (EUL). In the conversation that took place at the Great Amphitheater Hall of the Law School of EUL, the guests discussed football in various perspectives.
Toroglu, who is currently a sports writer in the "Sabah and Fotomaç" newspapers and a commentator on the A Sports channel, shared their experiences with European University of Lefke students with exceptional comments and evaluations, and answered their questions.
Toroğlu: It is necessary to get along well with top 3 teams to enter the CRC.
Toroğlu responded to the question "Do you accept to be the head of Central Referee Council?" as "No I do not. But would prefer to be the chair to the federation". Toroğlu also emphasized that in order to enter the CRC one requires to hold good relations with the top three teams in the league, or there is no chance to be part of the discipline and arbitration council of CRC.
Toroğlu also responded to the question " Do you think the Turkish football is fed by chaos?" as "If one slaps the chair of the opposing team then there will be a necessity of bringing about a chaos".
Toroglu: Fenerbahçe supporters are whom make the biggest sacrifice among the top 3 teams
Toroğlu made comments about Galatasaray, Fenerbahçe and Beşiktaş and emphasized that Aziz Yıldırım is only at his current position as the result of the sake of the votes. Toroğlu also stated that Galatasaray community shall be satisfied with Aziz Yıldırım.
Toroğlu expressed that the Chair of Beşiktaş Fikren Orman is tending to be Aziz Yıldırım, and that out of all top three teams the supporters of Fenerbahçe are the most sacrificing in means of buying and spending the most budget for their team, thus the fact that Aziz Yıldırım is yet at charge is not the responsibility of the spectators but the congress. "If Fenerbahçe is well administered and institutionalize, will be ranked at the top 10 teams in Europe" Toroğlu underlined. Toroğlu also stressed that Galatasaray will not have that chance as it is a team bound to a high-school.
At the end of the interview, Advisor to the Rector,. Assist. Prof. Dr. Mehmedali Egemen and Students' Dean Özgür Yılmabaşar presented a memorial plaque reflecting the Cypriot culture of the guests.