Fruit Weight Effect on the Storage Duration analyzed by EUL Academician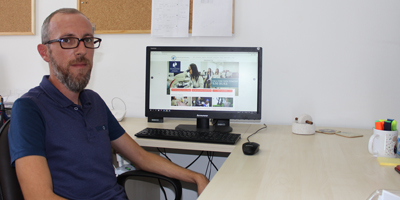 Storage Duration of Big Fruits is Shorter than Small Fruits
Academician of European University of Lefke Faculty of Agricultural Sciences & Technologies Department of Horticultural Production & Marketing Dr. Turgut Alas represented EUL in the International Conference on Plant and Molecular Biology which took place in France.
Alas pointed out that in the congress he presented his study titled "Fruit Weight Effect on the Storage Duration of Acco Pomegranate Cultivar under Different Storage Conditions" and added that in the study he has obtained that there is a significant relationship between the weight of the fruit, number of arils and juice of the fruit.
As a result of his study, the relation between characteristic features of the fruits were explained with mathematical formulas and by using the data of fruit weights after the harvest and 30,60,90 days of storage the formulas that was used in calculating aril sizes and weights were obtained.
Pointing out that storage duration of big fruits is shorter than small fruits in other words smaller fruits can be stored for a longer time, Alas stated that in the study he has observed that Modified Atmosphere Packages (MAP) increase the fruit quality of the products in the process of storage.