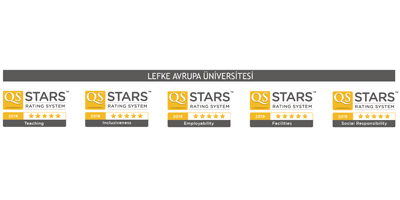 European University of Lefke (EUL) achieved great success scores by scoring the highest point among the TRNC universities in the evaluation conducted by QS (Quacquarelli Symonds), an international institution that rates higher education institutions.
Rector of the European University of Lefke, Prof. Dr. Mehmet Ali Yükselen touched upon the importance of the success achieved in the evaluations of QS for the students and for the university and said that "According to the QS Stars university 2019 evaluation results announced by the UK-based QS organization, which has an international reputation for world universities ranking, our university has taken 5 stars (full score) from 5 different parameters used by QS for evaluation. EUL, which is the university with the highest number of parameters from the TRNC universities to date, has achieved a great success in the international arena by adding a new one to its achievements in recent years, and achieved a full score of "Teaching", "Inclusiveness", "Employability", "Facilities" and "Social Responsibility" parameters and achieved a great success".
Yükselen pointed out that as a result of the QS evaluation, the European University of Lefke took a major step towards creating itself a prestigious place among world universities and added that "The successful results of our university are very important for our students and alumni, the value and prestige of our graduates in the international arena has increased". Yükselen also pointed out that EUL students should be proud of receiving education and being a graduate of a university which has an international reputation, with excellence in many categories.
Yükselen also said that "I would like to express my most sincere thanks to our academic and administrative staff, students, alumni, our strategic partners, non-governmental organizations and all public institutions for their great efforts who have had great efforts in the historical success of the QS Stars university evaluation results".
QS is an internationally known UK-based organization that ranks higher education institutions all over the world and provides in-depth information about the strengths and weaknesses of institutions. This service, called QS stars, contains a detailed look at the various features that point to a modern and global university. QS evaluation process evaluates universities according to different parameters and announces results.