Historical Success from EUL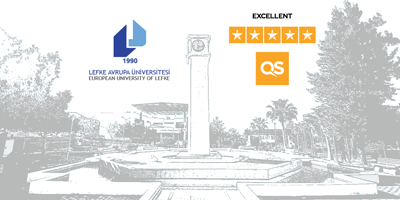 European University of Lefke achieved a great success by scoring full points from all parameters of an international organization QS (Quacquarelli Symonds) which assesses Higher Education Institutions, in the assessment by achieving this great success EUL became the first university among the universities on the island to score full points from all parameters.
Rector of European University of Lefke Prof. Dr. Mehmet Ali Yükselen said that the success achieved by the assessment of QS institution for 2022 has a great importance for the university and continued: "In the field of higher education, QS Stars university evaluation, which is declared by the UK -based QS organization, which has an international reputation in the field of rating of world universities According to the results, our university has received 5 stars (full points) from 8 different parameters used for evaluation.
According to the results of the evaluation of 2022, EUL, which scored full points from all parameters, was the first and only university to achieve this great success on the island. In this assessment, which means a great prestige for the university in the international field, EUL have achieved a great success with full points from 'Education-Training', 'Employability of Graduates',' Internationalization " Academic Development ',' Hardware and Infrastructure ',' Social Responsibility ',' Specialization Criteria: Electricity- Electronic Engineering and 'Inclusion' parameters. According to the results of the general evaluation calculated by considering the success of the university in all parameters, EUL has achieved to be a first among the universities of the Turkish Republic of Northern Cyprus by raising its 3 stars in 2019 to 5 stars in 2022."
Stating that the results of the QS assessment show that European University of Lefke is a university with prestige and the highest level of education in the international arena, Yükselen said, "This great achievement obtained by working hard increased the prestige of the diplomas of our university graduates in the international arena. As a result of the evaluation made by the independent external evaluation organization with an international reputation, the students and graduates of European University of Lefke, which has been registered in all categories and general evaluation by taking 5 stars, should experience the rightful pride of this success. I would like to thank the Board of Trustees, academic and administrative employees, students, graduates and strategic partners who support our university, which has great efforts in this historical success, which is the first and only among the universities on the island."
QS is a UK -based organization with international awareness, which raises higher education institutions all over the world and provides in -depth inspection services about their strengths and weaknesses. This evaluation service, called QS stars, contains a detailed view of various features that point to a modern and global university. The QS audit process evaluates universities in detail according to different parameters of higher education and declares the results.